The massive new 5-star, 585-room hotel is set to dominate Darling Harbour's food and entertainment culture.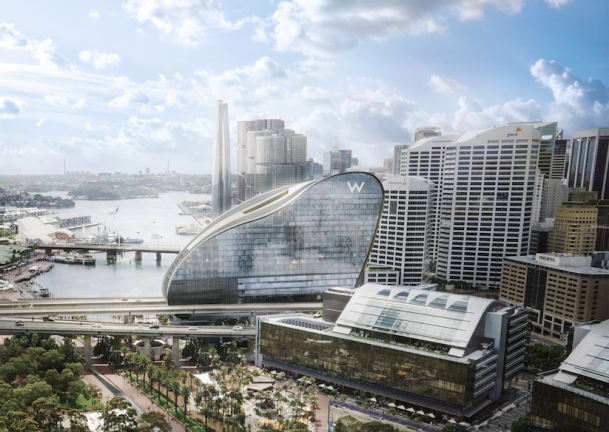 W Sydney.
W Sydney has announced it will open its doors on October 12, 2023.
Located in the heart of Darling Harbour, the five-star hotel is expected to play a major role in the local dining and social destination, while simultaneously housing guests attending events at the Sydney International Convention Centre and elsewhere.
"W Hotels is a brand that was born in New York, but destined for Sydney. The pulse of the city is so aligned with the W spirit – the sense of originality and curiosity, the unique take on luxury, the bold attitude," W Sydney general manager, Craig Seaward, said.
"Eclectic and unexpected, this new hotel will be a beacon for the harbour, a hub of constantly evolving experiences and exciting spaces that unfold from morning till late and are deeply connected to the life of the city. We can't wait to share W Sydney with our guests when we open our doors on 12 October." 
The hotel is a major new venue on the Harbour, with 585 hotel rooms and suites available. Event organisers that want to impress by hosting their delegates at the hotel can use just over 14,000 square feet of total meeting space. The largest room, the Great Room, is able to comfortably seat 805.
Meanwhile, for entertainment, the hotel offers a double-level bar (29/30), where guests can enjoy views of the harbour, framed by the hotel's 30-metre heated infinity pool on the WET deck a floor below.
For dining options, the hotel has recruited chef, Chris Dodd, to launch BTWN. This restaurant will serve a "hyper-local" menu for breakfast, lunch and dinner.
Finally, a late-night dessert bar promises to tantalise the tastebuds of those looking for an after-event treat. 2AM: dessertbar is the concept of Janice Wong, and despite the name will feature a wide range of both sweet and savoury options.