OP Events produced an incredible launch event for the new state-of-the art Bombardier facility in Melbourne's Essendon Fields (and got to experience what it was like on board a $73 million private jet!)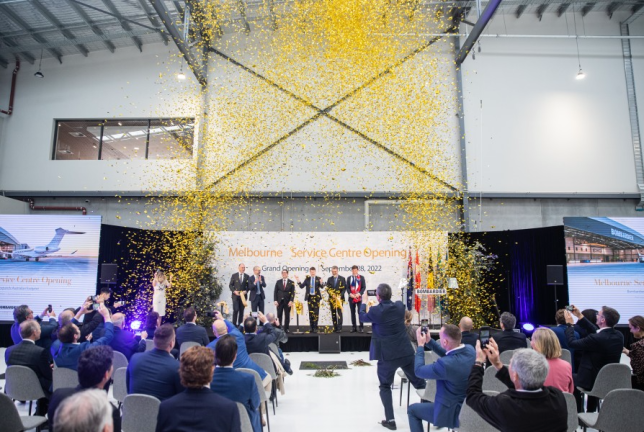 Grand Opening of Bombardier Service Centre, Essendon Fields, Melbourne, Victoria.
OP Events senior event planner, Christina Boje, shares her experience in delivering the Grand Opening of the state-of-the art Bombardier facility, and what it was like on board a $73 million private jet!
What was the purpose of the event?
The purpose of the event was to mark the Grand Opening of the Bombardier Service Centre at Essendon Fields Airport for clients, executives and key industry stakeholders. The new Service Centre is based in a brand new state of the art hangar with incredible facilities and a highly skilled onsite support team – it is all VERY impressive!
Where was the event held? 
Essendon Fields Airport Hangar 82 in Melbourne, Victoria. It's located less than 10-mins from Melbourne Tullamarine airport and 20-mins to Melbourne CBD.
Who was on the guest list?
The guest list featured a roll call of dignitaries, VIP's, key industry figures and Bombardier global executives.
We welcomed the the President and CEO of Bombardier – Éric Martel, the High Commissioner of Canada to Australia – Mark Glauser, the Minister for Industry and Recovery – Ben Carroll, the CEO of Essendon Fields Airport – Brendan Pihan, members of the Linfox Family, and many more top level executives, clients and press.
How did you find working with a world class brand?
Working with a luxury global best in class brand with a VIP guest list required meticulous attention to detail and flawless event delivery.
Furthermore, the Essendon launch was one of a series of global launch events for Bombardier, so we had to ensure alignment across the entire event program.
We worked hand-in-glove with Bombardier global marketing teams based in Singapore and Canada, and followed a strict design approval process to ensure brand consistency across all key touch points. Working with tight brand guidelines and multi stage approval processes can sometimes limit creative input, but I find the results are always polished and coherent.
What were some of your key challenges?
Delivering a high end, visually beautiful yet comfortable event in an airport hangar during the Victorian winter takes a LOT of planning and a LOT of equipment.
We brought in top tier event suppliers and operators from our closely held network such as Moreton Hire, NW Group, Valiant – Hire with Style, Peter Rowland, and Blaso Pyrotechnics to name a few. Detailed run sheets, briefings and rehearsals ensured seamless delivery on the day.
As a team, working around early bump in and late bump out, alongside adverse weather conditions (cold, rain and wind – a classic Victorian winter!) was in itself a challenge. Add to this the extra safety aspects of managing event logistics in a working airport – it was a BIG 4 days with lots of moving parts.
One challenge which could only be managed by the client of course was the delivery of the Global 7500 business jet – by far the most impressive and largest event prop I have ever worked around – and gee, did it make an impact!
What were the unique aspects of hosting in an aircraft hangar? 
I love working with unique event spaces, there are always challenges but they often present an opportunity to create a real stand out and memorable experience. Bombardier's new service centre is a colossal space, with over 50,000 sq ft of floor space and towering ceilings – it presented a huge volume for us to create in.
One challenge was ensuring quality sound production given the unique acoustics of the venue. From the outset we looked at not only the space but how audio and video was to be used across each aspect of the event. We briefed in our expert audio visual partners at NW Group who installed smart audiovisual technology to produce the best possible results.
Managing staff and attendee safety during event setup, delivery and set-down in a working airport also presented unique challenges. Having the Bombardier Global 7500 jet as our main event "prop" with its rotating parts, complex systems and loaded jet fuel meant we had to coordinate the event program with careful consideration to safety, security and environmental factors.
We worked alongside Essendon Fields and Bombardier HSSE teams to oversee contractor management and to develop detailed risk management plans to ensure the event was delivered safely and in accordance with all local HSSE requirements.
How did you lift the event experience (over and above the other global launches)?
We wanted to bring a touch of Australiana to the occasion so we opened with a traditional Welcome To Country and Ceremony performed by an Elder from the Wurundjeri Community – which is of course uniquely Australian.
To set this event apart from other global launch events, we introduced gobos – a decorative lighting feature that projected the Bombardier logo across the space and provided subtle brand reinforcement (minus the environmental cost of printed signage). The client loved them – so much so gobos have now been added to the standard briefing documents for future Bombardier global events.
How did you maximise client budget?
Behind every successful event is a well-planned budget that factors in everything down to the last gift bag. It's always my starting point – determining a clear set budget gives the entire event context, and I believe it's a crucial skill to master.
Once the budget is established, knowing the right people and leveraging industry contacts goes a long way to maximise client budgets. It's always important to be smart with expenses, thorough with budget tracking, and to provide an in-depth brief to suppliers to avoid misunderstandings or unexpected billings down the track.
Working for a national event management company – OP Events I also have the benefit of trade pricing, so I find our clients are not only delighted with our service, but the value and cost savings we bring.
What did you want attendees to take away from the experience?
I wanted attendees to experience a true sense of Bombardier's company values of; People & Customers, Performance, Excellence, Team Work and Authenticity. To know that they are part of the Bombardier family, to experience Bombardier's commitment to excellence at all levels, and to deepen their affinity to the brand. I believe we achieved that.
What was it like to experience a $73 million private jet?! 
Touring a Global 7500 private jet was amazing, a real pinch me moment! The jet is beautiful inside – total luxury. It has four living areas, full size kitchen, master bedroom, entertainment and conference suite – the best home office I've ever seen! If I could afford it – I would get one!!
What was the client's feedback?
We've had only positive feedback from a very happy client. It was a real privilege to work with such a globally recognised brand and to see our OP events team and suppliers execute at such a high standard of excellence. I have to say, this is an event I'm really proud of.