Company's top performers will fill more than 10,000 hotel nights and inject millions into the local economy.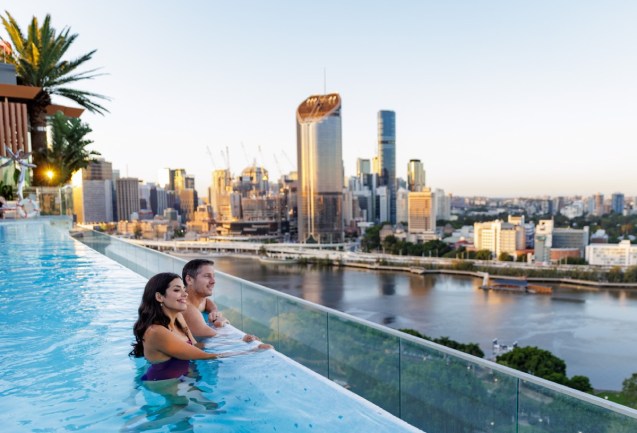 Emporium Hotel South Bank
About 2000 delegates from Cathay Life Insurance in Taiwan will visit Brisbane in May next year in one of the city's largest international incentive group wins.
The bid was secured by Brisbane Economic Development Agency (BEDA) in partnership with Tourism Australia's Business Events Bid Fund Program and Tourism and Events Queensland.
Brisbane Lord Mayor, Adrian Schrinner, said tourism is behind international travellers flocking the city.
"This event is expected to inject an estimated $12.6 million directly into the local economy and reflects the city's growing appeal for high-yield international business events," he said.
"The successful delegates will be among the first in the world to experience Queen's Wharf, Brisbane's new $3.6 billion world-class entertainment and lifestyle precinct.
"Between our premium event venues, urban adventures, breathtaking natural wonders and quintessential Australian experiences, Brisbane is a compelling destination for international business events."
BEDA CEO, Anthony Ryan, said Brisbane's business events incentive strategy in attracting Asia-based incentive groups.
"We've seen an influx of global businesses turning to Brisbane to reward their top performers," Mr Ryan said.
"We look forward to welcoming Cathay Life Insurance Taiwan, and we're ready to showcase an abundance of new attractions, hotels, dining experiences, and cultural gems across Brisbane, ensuring an unforgettable trip for their delegates."
Cathay Life Insurance, Taiwan's largest insurance company, has eight million policyholders and services more than 20 million insurance policies in Taiwan.
Its General Manager, Shang-Chi Liu, said the company is impressed by the culture and natural scenery of Brisbane.
"Brisbane's rich tourism resources help us to develop various itineraries and activities that are unique to us," he said.
"The support and professionalism provided by Brisbane Economic Development Agency, Tourism and Events Queensland and Tourism Australia has boosted our confidence in a successful incentive in Brisbane."
Tourism Australia Managing Director, Phillipa Harrison, said the Business Events Bid Fund Program continues to secure a strong future pipeline of international business events to Australia.
"Securing important bids to host incentive events like Cathay Life Insurance Taiwan is great for Brisbane and Australia and will deliver significant benefits to the $4.5 billion business events economy," Ms Harrison said.
Brisbane was selected ahead of some popular cities in Europe and Asia in the final stage of the selection process.