The heat was on at the Brisbane Convention and Exhibition Centre when it hosted the launch of the Australian selection for the Bocuse d'Or competition recently
By Gwen O'Toole
The heat was on at the Brisbane Convention and Exhibition Centre when it hosted the launch of the Australian selection for the Bocuse d'Or competition recently (October 26).
Known internationally as the Culinary Olympics, top Australian chefs competed under the watchful eye of previous competition representatives including TV MasterChef judge, George Calombaris to represent the nation at Lyon in France in 2011.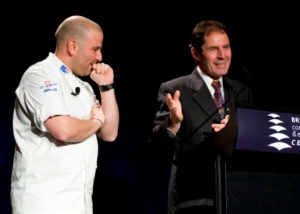 Top Australian Chefs, including TV MasterChef
judge George Calombaris were in attendance.
As the world's most prestigious cooking competition, Bocuse d'Or in Lyon, France, the Australian selection saw more than 350 guests including cuisine connoisseurs and industry heavyweights in attendance.
Among those were the French Ambassador to Australia, Michel Filhol and French Consul General, Lionel Majeste-Larrouy, who enjoyed such culinary treats as Wagyu Beef Carpaccio, Foie Gras and Celery Raviolo, Roasted Wild Barramundi, Kimberley Red Brisket and Fillet of Beef Confit Garlic and Shallot, Marinated Meredith Dairy Goats Feta, Pear and Cassis Compote finishing on a high with Chocolate Creme Brulee, White Chocolate Raspberry Margarita, Chocolate pudding and Baileys Ice Cream.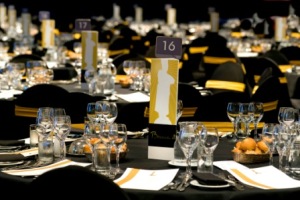 The event, noted as the culinary olympics, selects the Australian
representative for the gruelling competition.
George Calombaris of TV MasterChef and Melbourne Press Club fame, led an impressive line up of Australian talent including, Scott Pickett from Melbourne's The Point Restaurant, Joseph Vargetto from Little Bourke Streets' Oyster eaterie, Tom Milligan, Senior Educator at Holmesglen Institute of TAFE and local Queensland Chef, Ross Howell, who contributed their considerable combined talents to the degustation menu prepared by Brisbane Convention & Exhibition Centre Executive Chef Martin Latter and his team.
The elegant and eloquent Gabriel Gate, MC and Bocuse D'Or Australian Selection President, Brisbane's Romaine Bapst from IL Centro kept the evening moving at a fast pace.
The selection process now begins with the preparation of the competition criteria and nomination forms with the official cook off for the qualifying contestants to be held in May 2010.
For more information on the competition event click here.
For more information on holding your next event at the Brisbane Convention and Exhibition Centre click here.