Brisbane Airport's first major international hotel has been selected as four-star brand Novotel
By Gwen O'Toole
Brisbane Airport's first major international hotel has been selected as four-star brand Novotel. The property will be the second Novotel in Brisbane and is currently under construction scheduled for completion by October 2009.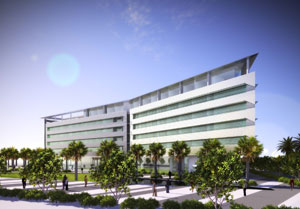 Artist impression of the new Novotel Brisbane Airport
In recent years Novotel has been selected for hotels at Bangkok's Suvarnabhumi Airport, Guangzhou's Baiyun Airport, Hyderabad's new international airport and Hong Kong's airport. There are over 40 Novotels at major airports around the globe.
The 156 room Novotel is currently being built on an 8000sqm block of land at 1 Airport Drive and will be part of a relatively new retail, commercial and recreational precinct.
The new Novotel hotel will also feature a roof top terrace, gymnasium, lap pool and sauna, a lobby bar, a la carte restaurant, underground parking and six meeting rooms to service the needs of corporate clients in transit.
Architect Noel Robinson says the design of the hotel includes a six-storey atrium and a dramatic, glass-ended, cantilevered rooftop pool and recreation space.
Welcoming Novotel's appointment, Accor Vice President Australia, Simon McGrath said that Novotel's popularity in airport precincts was because of its enormous versatility for the various markets that require airport accommodation.
"Novotel can offer everything from 5-star style suites to mid-market accommodation, along with business and meeting facilities, quality restaurants and top-class recreation facilities," McGrath said.
"Brisbane Airport is much more than just an airport, it is one of Brisbane's fastest growing commercial areas and the gateway to the Gold Coast and south-east Queensland. Brisbane Airport currently handles some 18.5 million passengers annually – a growth of 50% since 2003 – and is forecast to grow to 33.3 million by 2029, making new infrastructure such as the Novotel crucial."