LOUD events opened the redevelopment of the Wintergarden Brisbane last week at a VIP launch for 1,500.
LOUD events opened the redevelopment of the Wintergarden Brisbane last week at a VIP launch for 1,500.
After a $100 million over haul by ISPT the centre has ensured a number of international brands make their first stamp on the Brisbane retail market.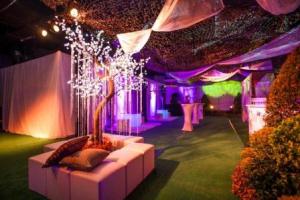 The theme "Come Play In The Garden" lent itself to a stunning series of live floral centrepieces, hanging gardens, astro turfed bars and butterflies.

The launch included a VIP management and media launch in the Brisbane Mall with Kate Miller-Heidke unveiling an 85m LED light façade with the Premier and then a VIP shopping experience open to 1,500 carefully selected shoppers. The centre had been opened softly for one month presenting a number of logistical issues to be overcome.
LOUD events director, Helena Medhurst said it was an interesting combination of hurdles to be jumped.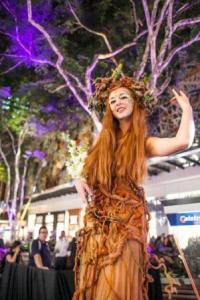 "Being an operational shopping centre meant that the centre could only be closed to the public for the event set up for approximately an hour for installation. Closing part of the Queen Street Mall off to the public during peak foot traffic times and trying to find a space for a centre stage visible to large numbers to watch over three stunning shopping levels proved challenging," Medhurst said.
"LOUD carefully designed an installation plan that included building the theming installations in three unleased retail spaces the evening prior. A rehearsal for Kate Miller Heidke had to be conducted acoustically and all mall catering was carefully designed to present a culinary sensation that could be prepared offsite and bought in for service time. Fifteen security guards handled the closing of the centre, as well as the transferable of the brail trail track. The registration of 1,500 shoppers took place at the old Regent theatre foyer to prevent the mall bottle necks."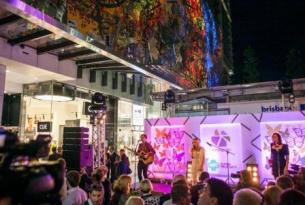 The event included a performance by Kate Miller Heidke.

Creative thinking in conjunction with Brisbane News' fashion writer Kimberly Gardner led to the delivery of a store fashion parade that was staged around the Centre's primary escalators. Sophie Formica presented the fashion show as onlookers gathered on all three levels.
Further entertainment on the evening was designed to assist with people flow and help in showcasing stores and included a stunning integration of the theme. LOUD developed unique offerings including live floral heads, garden stilt walkers, roving butterflies, fire eating geisha girls and a hanging jar garden featuring a garden adagio performance.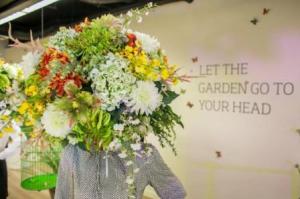 LOUD designed a series of stunning vignette stations incorporating catering stations and entertainment, each placed on a separate level of the centre to encourage guests to explore the Wintergarden. Guests were directed to the vignettes via the means of a programme on the back of their lanyard name cards.
Caxton Street Catering was selected to deliver an incredible local menu that included edible petals and micro-herbs and grass serving platters.
A VIP garden refresh lounge was designed to entertain and wine and dine major stakeholders. Utilising over 500 square metres of astro turf a concrete basement was converted into a stunning ethereal garden setting that included over 100 live plants.