FCM Meetings and Events delivered an epic Coachella-inspired music festival for Flight Centre Travel Group's Australian based employees.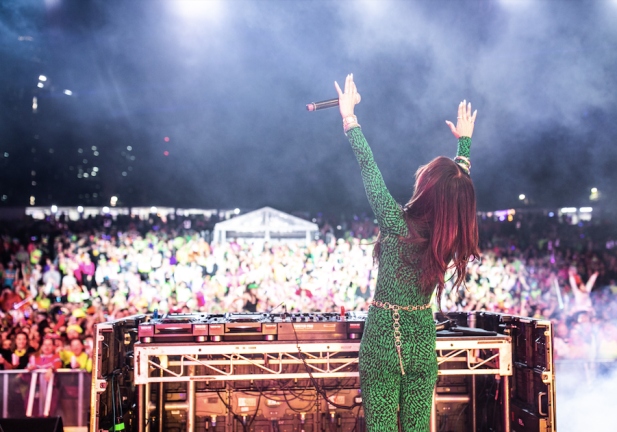 Flichella – a play on Coachella – is Flight Centre Travel Group's music festival for its Australian based employees. It was organised and managed by FCM Meetings and Events and took place on Saturday, 8 July 2023, welcoming 4,147 attendees.
The inaugural Flichella event in 2022 was such a success, it had to be done again in 2023. This year's theme focused on the future, with the tagline "The Future is Neon". One of the main reasons for this is that Flight Centre focuses on employees "Brightness of Future" (BOF).
The festival-style event featured back-to-back artists performing on a main stage, as well as fun and interactive brand activations set up for 'Flighties' to engage with brand partners and suppliers.
Quick stats
Attendees: 4147
Brand partners / Sponsor attendees: 156
Accommodation in Brisbane: 21 hotels (1,885 room nights)
Flights booked: 2,310
25 x (Pre-Flichella) Brand / department Meetings/Events (1,211 attendees)
What was the event brief?
To throw an epic party that would reward and recognise all Flight Centre employees for all the efforts that were made during the financial year.
What were the objectives or purpose of the event?
The purpose was to provide FCTG employees with a one-of-a-kind experience that celebrated their collective accomplishments over the financial year. The event aimed to create an electrifying atmosphere of unity, joy, and appreciation for a resilient workforce. Colleagues who had been working remotely and interstate had the chance to reconnect, fostering a continued sense of community.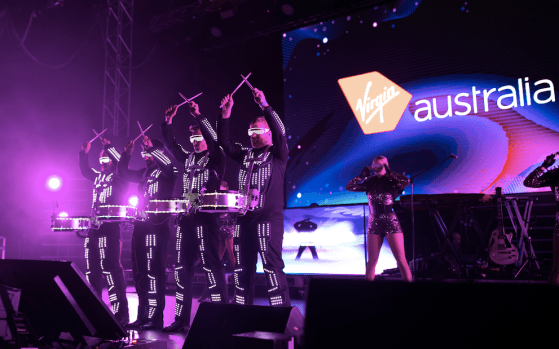 How was the event delivered and what were the highlights?
Pre-event
Flight Centre Travel Group and FCM Meetings & Events orchestrated a vibrant and engaging communication and promotion campaign to build anticipation for Flichella. A range of engaging content was slowly shared to the FCTG community, from artist reveals to behind-the-scenes glimpses. This ignited excitement among employees and generated a sense of suspense and intrigue. The creative campaign, in collaboration with sponsors, captured the spirit of the festival and united employees in their shared anticipation of this momentous event. The sponsors' contributions played a crucial role in enhancing the promotional campaign, extending its reach and impact.
The Event
The festival featured an incredible line-up of performers, carefully selected to provide non-stop entertainment and create an energetic atmosphere. From renowned artists to emerging talents, each act added a unique touch to the event. Headliner acts included Jungle Giants and iconic DJ's wonders Dave Goode (of Potbelleez fame), as well as Havana Brown, performances from Chris Tamwoy, Furnace and the Fundamentals and Ciaran Gribbin (ex-front man of INXS).
Over 40 partner brands jumped on board to support Flichella, with a range of on-stage entertainment segments, activities and activations. These were carefully curated, ensuring there was something for everyone including engaging competitions, face painting, interactive photo booths and more.
Were there any challenges and how were they overcome?
The largest challenge was the scale of the event. With over 4,000 Flight Centre employees from across Australia attending, the festival required meticulous planning and coordination. Managing such a large crowd, ensuring their safety, and providing a seamless experience demanded careful attention to detail and effective crowd management strategies.
There were also a diverse range of stakeholder expectations. Flight Centre employees, sponsors, and partners had different objectives, meaning that effective stakeholder communication was essential. An open and transparent dialogue, regular updates, and collaboration were key to addressing concerns, aligning expectations, and fostering strong partnerships.
The weather was a further challenge. Leading up to the event, rain posed a risk to the outdoor festival. Contingency plans were put in place to ensure the event could proceed smoothly, regardless of weather disruptions – including last-minute ponchos to keep attendees dry.
Coordinating various aspects such as artist bookings, sponsor activations, logistics, and marketing required efficient project management and a dedicated team to ensure all tasks were completed on time.
Expertise in event planning and production played a crucial role in overcoming challenges. Leveraging the experience and knowledge of event professionals, the team implemented effective strategies, mitigated risks, and ensured a seamless event experience.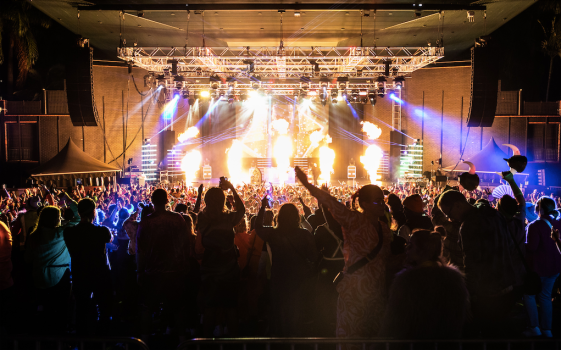 What was the overall result?
The event's outcomes went beyond entertainment, leaving a lasting impact on attendees' morale, motivation, and loyalty to the organisation.
The festival not only celebrated employee accomplishments, but also highlighted Flight Centre's commitment to creating memorable experiences and fostering a vibrant culture.
It marked the second time since the pandemic that some of these individuals have had the opportunity to see each other face-to-face, making it a highly anticipated and significant event. The festival's innovative approach in fostering connections, celebrating achievements, and providing a platform for interaction among colleagues has set a new benchmark for similar events in Australia.
What was the feedback from the client and attendees?
The client said "The creation of Flichella was no easy task. The execution of the event was near flawless, and I commend the FCM Meetings & Events team for creating such an unforgettable event. This legacy event is well and truly here to stay."
Meanwhile, attendee feedback included:
"I am still amazed that a company will do so much for their people. Everyone I have told about the event wants to come and work for us."
"I attend a lot of music festivals and can say for a music festival, you are nailing it."