The intent was to steer away from stock standard IWD event conversations and highlight the incredible female talent within the CATO membership, providing a platform for them to showcase their diverse skills and experiences.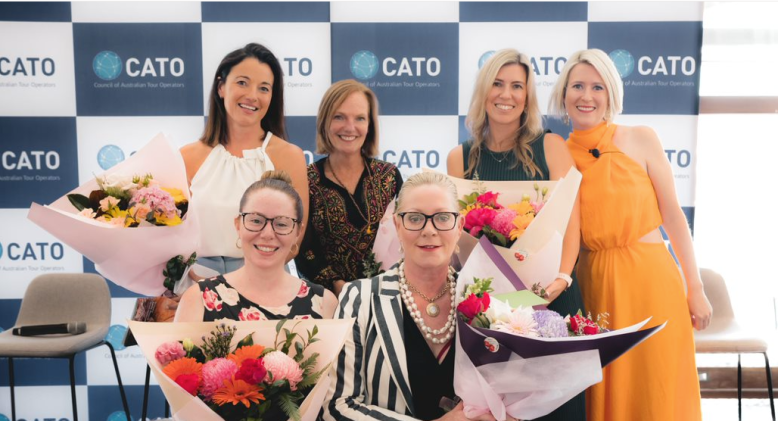 In celebration of International Women's Day earlier this month, the Council of Australian Tour Operators (CATO) held its International Women's Day Lunch on Wednesday, 8 March, at L'Aqua in Cockle Bay.
CATO is a trade association representing the domestic and outbound land-supply sector of the Australian travel industry. The event was attended by 168 guests comprising of 50 percent CATO membership and a 50 percent mix of retailers, airline representatives, marketing professionals and travel trade media.
What was the purpose of the event?
The intent was to steer away from stock standard IWD event conversations (and potential man-bashing!) and highlight the incredible female talent within the CATO membership. To provide a platform for these women to showcase their diverse skill set and experience: their leadership path; their learnings as business owners and operators of family businesses; to celebrate their mentors along the way – both men and women; to share their philanthropic endeavours; and their wisdom on that elusive family balance.
How was the event delivered and what were the highlights?
Lisa Pagotto, CATO vice-chair and founder of niche travel brand Crooked Compass, hosted the day's formalities, which included a panel session with female industry leaders and a deeply moving interview with media personality, Hoda Alzubaidi, who shared for the first time her story of arriving in Australia as a refugee.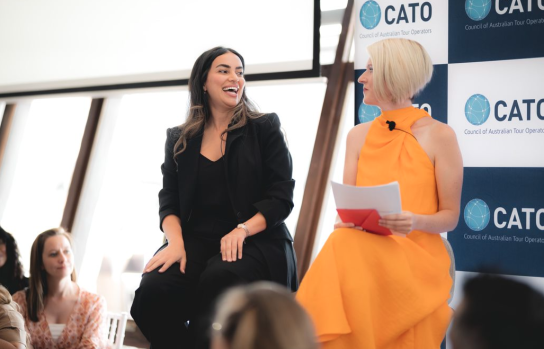 Designed to promote and celebrate equity across cultures, Hoda's interview captivated, with barely a dry eye in the room. Eloquently facing tough themes head-on, she left the crowd with: "If we don't speak about these things there will always be racism and there will always be people who don't understand that tourism actually plays such a critical role in developing countries, and this is why I'm here today."
The event was emceed by one of Australia's most prominent and long-serving editors, Julia Zaetta, who has delivered content to women for the last 40 years. Enticing lots of laughs, she shared colourful stories of her travels and career, including her time as founding editor of New Woman, leading the magazine's historic launch and representing the second wave of feminism.
The lunch was sprinkled with travel stories by presenters that were inspiring, hilarious and, at times, just a little saucy.
Who was involved in bringing this event to life?
The event's headline sponsor was Entire Travel Group, who were joined by Switzerland Tourism Board and Linkd Tourism, representing Colorado and Arizona, as event sponsors.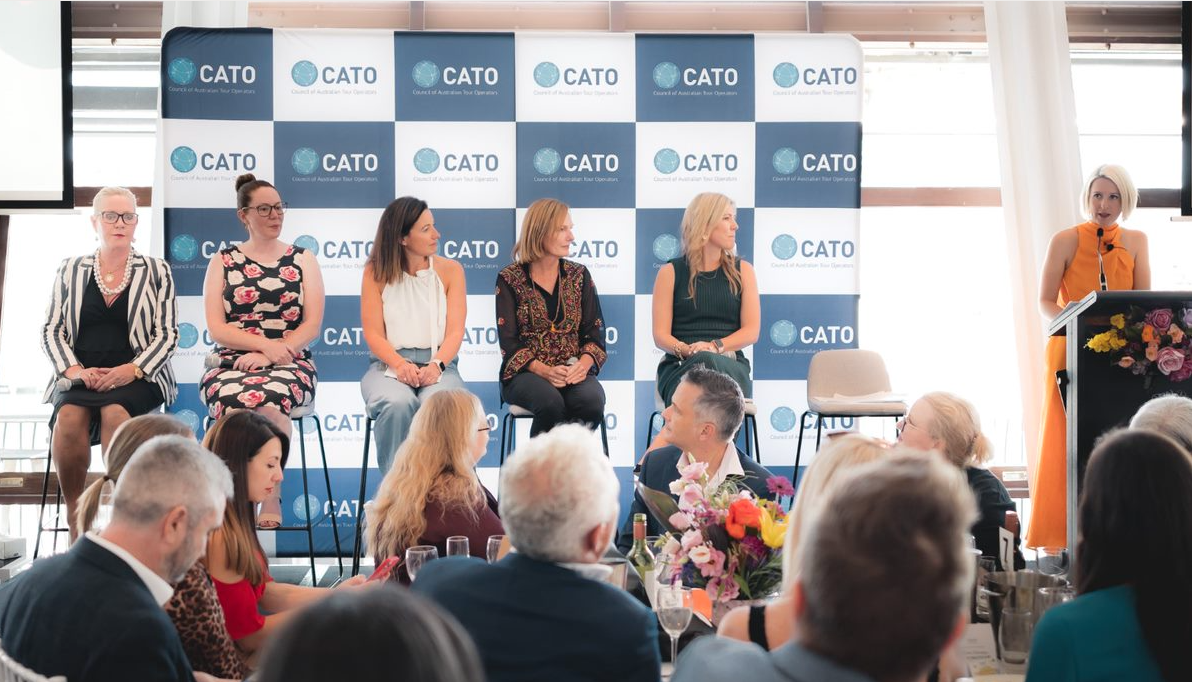 The stunning floral arrangements were sponsored by Slak Flowers, Sydney's social enterprise florist. Led by professional florists, they provide training, development, and guaranteed employment opportunities for women who are homeless – a beautiful fit for the day.
The panel of industry heavyweights included: Gai Tyrrell, Managing Director Australasia, Globus Family of Brands; Toni Ambler, Managing Director Touring Brands, The Travel Corporation; Lou Tandy, Co-owner, APH Travel Group; Sue Badyari: Chief Executive Officer, World Expeditions; and Ingrid Berthelsen: Joint CEO, Evolution Travel Collective.
Were there any challenges and how were they overcome?
Side-stepping the UN's IWD theme for 2023 was a risk in the event planning and there was a clear intent to shake things up by initiating different and challenging conversations. Despite this, tickets sold at an unexpected rate and demand quickly exceeded the venue's capacity, with no option to move to a larger venue.
Closer to the event day, discussion arose around the appropriateness of tackling these challenging conversations and the alignment to the CATO membership. Listening to member feedback, organisers made last-minute changes to the program, putting pressure on event logistics behind-the-scenes but with no lasting impact to proceedings on day.
What was the feedback from the client and attendees?
Prior to the hugely successful industry Christmas party in 2022, CATO events were closed to members only. CATO's IWD lunch delivered another sell-out success (with waitlist!) and cemented the association's reputation for delivering high-quality networking events that attract new sponsorship opportunities and provide a platform for robust discussion and education within the travel industry.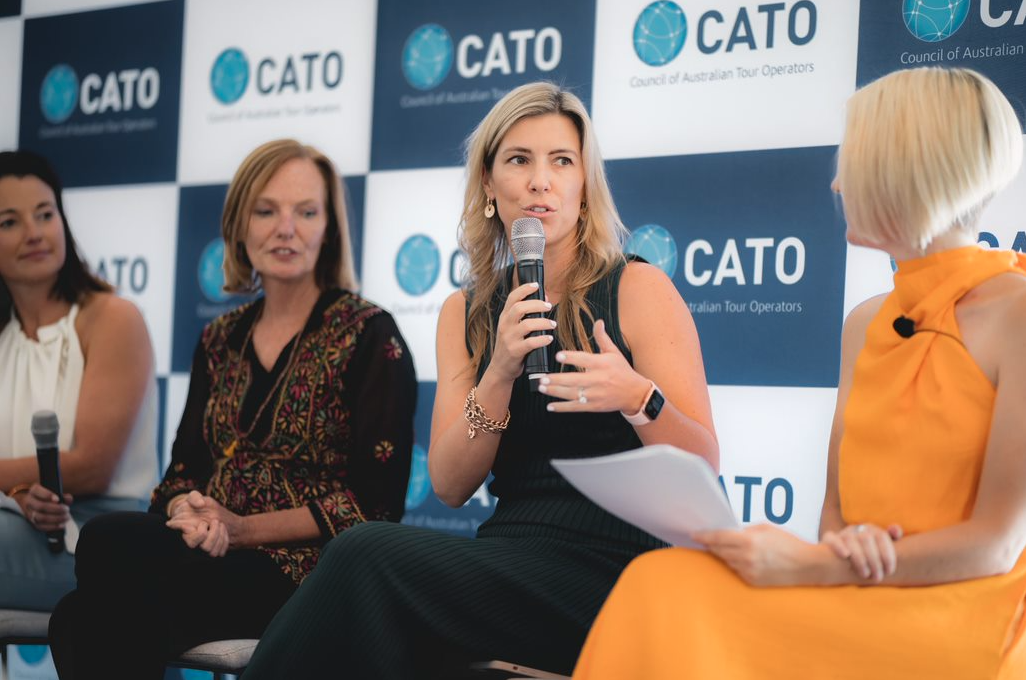 The response to the event was overwhelmingly positive, with thank you messages splashing social media and emails to the CATO team.
Lockton Companies Australia manager Tourism & Travel People Solutions, Rebecca Fleming said:
"The day that you put on, whilst on the surface, had all the ingredients of a lush corporate event like all the others (it really was lovely!), you were able to provide SO MUCH MORE. The types of questions put to the panel were more reflective of telling stories of women and men working in partnership to build up everyone together. It was not hearing about how some women crashed through glass ceilings to have amazing CVs, it was a much deeper conversation about what women can add to a business, and how we can lift everyone up together. Much better than leaving an event with a flash goodie bag and feeling like I'm not quite good enough – instead I left the event feeling motivated and overjoyed to see so many wonderful women in the industry supporting each other."
"Hoda's own journey clearly demonstrated why tourism can be such a force for good in countries that are seeking to evolve and provide opportunities for women and their communities. Her story was heartbreaking in many aspects, but reminded me of why it is so important to remember how many amazing stories are out there. It was such an inspired choice, and I felt very privileged to hear her amazing story of resilience."
$10 from every ticket purchase was donated to the Asylum Seekers Centre, where Hoda volunteers her time to support others with a similar story to her own.