BECA representatives have discussed the ongoing challenges faced by the business events industry.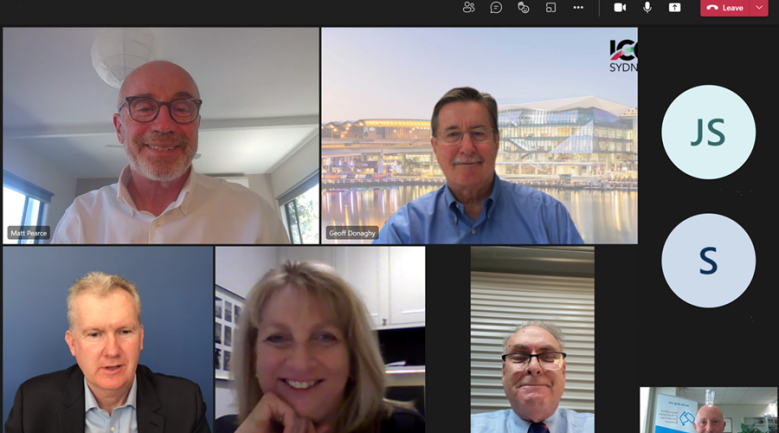 Business Events Council of Australia (BECA) representatives met online with members of the Federal Opposition last week to discuss ongoing challenges faced by the business events industry.
BECA representatives included BECA deputy chair and ICC Sydney chief executive officer Geoff Donaghy, Kate Smith from Waldron Smith Management, Matt Pearce from Talk2 Media & Events, and Andrew Hiebl from the Association of Australian Convention Bureaux. They met with Senator Don Farrell, Shadow Minister for Sport and Tourism, and Tony Burke, Shadow Minister for the Arts.
The conversation focused on BECA's three key priorities of business survival and retention of specialist industry skills, risk mitigation and confidence, and recovery needs to stimulate demand.
Donaghy expressed concern that the industry would continue to suffer losses for the next six months or more.
"Given the significant lead time required for the national restart of the business events industry, many parts of our critical supply chain will be faced with the challenge of surviving without functional revenue, noting that any deposits received for future activity must be securely held until services are delivered," Donaghy said.
BECA has also formally submitted a response to the Live Performance Federal Insurance Guarantee Fund Bill 2021 before the Senate Environment and Communications Legislation Committee – backing in its position that the lack of COVID-19 pandemic related event insurance is a handbrake on confidence and will slow the recovery of the business events industry in 2022.
"BECA identified risk mitigation as a key challenge for governments to resolve more than twelve months ago and we continue to see this as a priority for recovery," Donaghy said.
"A national Commonwealth Government led event insurance scheme, achieved in partnership with state and territory governments, remains our preferred model."
In response to BECA's concerns and pleas for the urgent support required, Senator the Hon Don Farrell, Shadow Minister for Sport and Tourism acknowledged the industry's hugely important contribution to Australia's visitor economy.
"There can be no doubt that the business events sector has suffered significantly as a result of the pandemic, and in addition, like many other industries, it's clear that the business events sector can't just snap back as soon as borders open." Senator Farrell said.
The Hon Tony Burke MP, Shadow Minister for the Arts said the live music and events industry needs an interruption insurance scheme to get it back on its feet and support its future.
"The federal government has been willing to provide such a scheme for the screen sector but not for the arts or live events industry – and they've given no reason why," Shadow Minister Burke said.
"Labour and the sector have been lobbying for this for more than a year – it's time for the federal government to listen and act."
BECA, as an apolitical organisation, continues to advocate on behalf of the business events industry, bringing forward evidence of COVID-19 impacts and policy solutions to the Government, Opposition and crossbench.