The Business Events Council of Australia is using the upcoming federal election campaign to seek an immediate $10m to boost Australia's position as a global events destination.
The Business Events Council of Australia (BECA) is using the election campaign to seek an immediate $10m to boost Australia's position as a global events destination.
BECA Chairman Geoff Donaghy said $10m annually was not a big ask at a time of tight fiscal budgeting because lack of investment and increasing global competition had seen Australia's ranking as a business events destination slip from fourth to 16th in less than a decade*.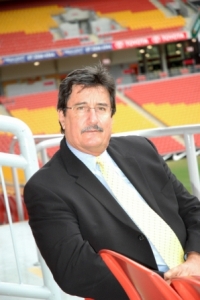 BECA Chairman Geoff Donaghy has called upon Canberra to loosen the purse strings to attract more business events
"We are struggling to compete with our Asian neighbours for important conferences, fairs and exhibitions that generate globally US$175 billion a year in straight dollar terms and much more in knowledge exchange, network building and ideas generation," Donaghy said.
He said a review of the Australian business events market that BECA planned to send to key Federal MPs in the election lead-up had identified the need for a strong collaborative approach by industry and government to reverse the slide.
"This election is all about moving forward, but we are in an industry that if you are standing still you are going backwards, and we need to turn that around. Australia is being outspent, out marketed and out performed, and we can only address that if Canberra is able to match and support industry and state government spending."
Donaghy said business events delivered a broad range of benefits, including the highest daily visitor spend and broad visitor dispersal to regional areas via satellite meetings and pre/post touring. Business events also assit in filling hotel beds and airline seats during off-peak periods and encourages trade in Australian products and services.
"BECA believes that a federal government National Business Events Fund would enable the industry to win bids and maximise delegate attendance at conferences coming to Australia, allowing us to build on the 116,000 direct jobs and $17.3 billion in revenue the industry already generates, according to a 2005 report.
"This is not just about our the big cities – it's about bringing events, post touring and jobs to regional centres likes Cairns, Darwin, Broome, Wollongong, Albury-Wodonga, Newcastle, Geelong, Ballarat, Launceston, Townsville, Mackay, the Gold Coast and Alice Springs."
The Review of Australian Business Events video can be viewed on the BECA website. BECA's Federal Election 2010 paper is also available for download from the website.
*International Congress and Convention Association Published Rankings for 2009.