Halcyon House, a former surfer motel turned luxury hotel, has opened its doors at Cabarita Beach in Northern New South Wales.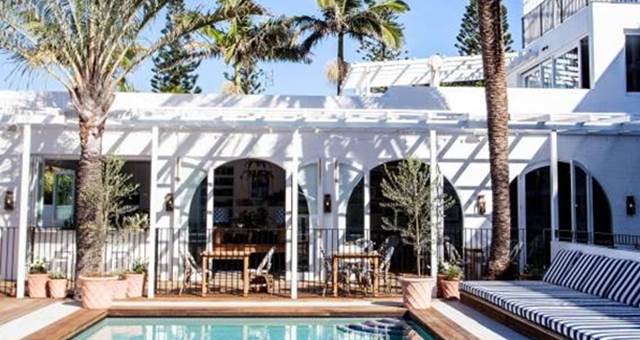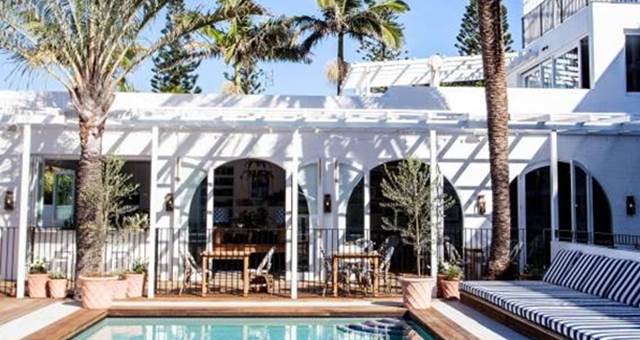 Halcyon House, a former surfer motel turned luxury hotel, has opened its doors at Cabarita Beach in Northern New South Wales.
The 21-room boutique hotel is located 15 minutes south of the Gold Coast Airport and 30 minutes north from Byron Bay.
Halcyon House's owners, Brisbane-based sisters Siobhan and Elisha Bickle and their husbands Adam Flaskas and Dave Wadley, fell in love with the site and bought it in 2011.
This is the first hotel development for the two couples who spearheaded the highly successful up market and award winning 'Bunk' backpackers hostel and the Victoria Park function centre in inner-city Brisbane.
"We believe Halcyon House will hit the right note – luxurious with a low key Australian feel, whimsical rather than formal and a relaxing retreat in a location, otherwise known to those in the know, as a 'little pocket of paradise','' said Siobhan Bickle.
At the heart of its embrace is a hotel with rich fabric-upholstered walls, handpicked antique treasures and original art collected from around the world, combined with an Australian soul.
While Cabarita Beach boasts surfing hot spots, spectacular coastal walks and a pristine beauty, guests may not want to leave their room.
Each of Halcyon House's suites has its own individual aesthetic lovingly crafted by Anna Spiro, the hotel's interior designer.
"I love to stay in a place that wraps me up and is beautifully decorated. You want to go home and dream about visiting that wonderful place again," Spiro said.
"I wanted each room to be different so that guests can find their favourite room and then keep coming back and choosing to stay in that room each time they come."
Spiro, along with the owners of the hotel, have 'curated' a collection of antiques, furniture and art they hope will grow and stay within the walls of Halcyon House for years to come.
Many of the vintage pieces as well as furnishings, designers and artists, such as John Derian sofas, Madeline Weinrib rugs and drawings by Wayne Pate, were sourced on a trip to America.
A team of bespoke craftsmen from Northern New South Wales and Brisbane, including lampshade makers and furniture restorers, were also engaged to bring to life many of the vintage pieces.
These pieces sit alongside Australian treasures such as antique seascapes collected from around the country creating a décor that looks and feels as if it has been collected over a long period of time, as though it has always existed.
The exquisite fabrics chosen for the walls of the rooms came from England. As did the upholsterers, who travelled to Australia to complete the job, thus is the level of attention to detail that has gone into every inch of Halcyon House.
Award-winning architect, Virginia Kerridge, designed the hotel. Virginia recently won the 2013 RAIA – Interior Architecture Award. Virginia's elegant design includes echoes of the past with the pool and Spanish-style arches retained from The Hideaway, the popular motel that stood on the site from the 1960s. Virginia said she wants the hotel's guests to be "invigorated by the building".
The hotel's General Manager, Mauro De Riso, comes with enviable hospitality experience, having worked at JK Place in Capri for several years and together with his team will deliver impeccable, intuitive service, creating extraordinary guest experiences for the discerning traveller.
Paper Daisy, Halcyon House's poolside restaurant, was named after the distinctive wildflower on Norrie's Headland.
Ben Devlin, who was awarded the Brisbane Good Food Guide young chef of the year in 2014, is the Head Chef.
Previously Ben worked at the three-hatted Esquire in Brisbane and for world acclaimed chef-owner René Redzepi at Noma in Copenhagen.
The 90-seat dining experience at the restaurant is a celebration of Halcyon House's unique part of the world. Confident coastal cooking in a relaxed setting, the food expresses the very best of the region's unique produce and bourgeoning culinary reputation.
Hotel services will be of a world class standard with some unique experiences on offer such as:
-A surfing lesson with one of the best surfers in the world, Joel Parkinson. Winner of eleven elite ASP (Association of Surfing Professionals) tour victories, and newly appointed Halcyon House 'ambassador', Parkinson will take hotel guests for the surfing ride of their lives; and
-Culinary events, such as champagne dinners and demonstration-style cooking classes.
Halcyon also has a hairdressing salon, full day spa and pool.