VIP guests enjoyed the first ever dinner on Optus Stadium's hallowed turf.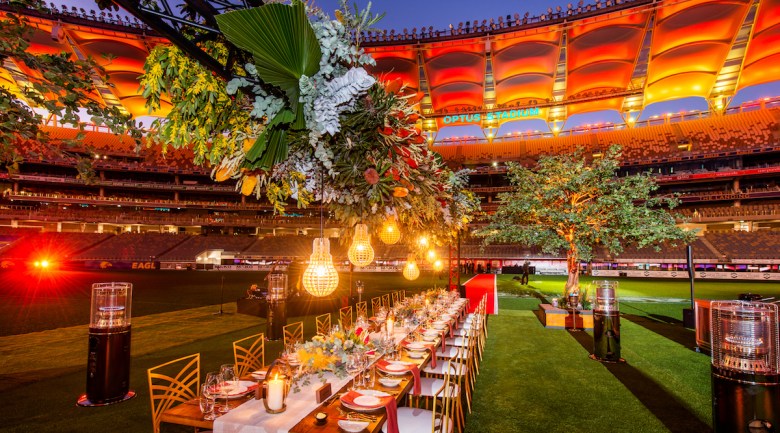 Australia's newest mega-venue, Optus Stadium, recently hosted 20 VIP guests for the first ever dinner on the venue's field of play, proving its capability of hosting large-scale and intimate events equally well.
Located on the Burswood Peninsula in Perth, Western Australia, Optus Stadium combined the best of the region's produce with the impressive sporting facilities to host an event to remember.
EVENT HIGHLIGHTS
Arriving at the venue, the VIPs enjoyed canapes and drinks in The Locker Room. The space offers unbridled access into the warm-up facilities and on this particular night, a local AFL team were conducting drills in this space, giving the guests a true 'game day' experience.
The players ran out through the room, leading the guests out onto the stadium's ground, where the sound of 60,000 fans cheering for their team boomed through the venue's PA, accompanied by spotlights and video content on some of the largest screens in the Southern Hemisphere.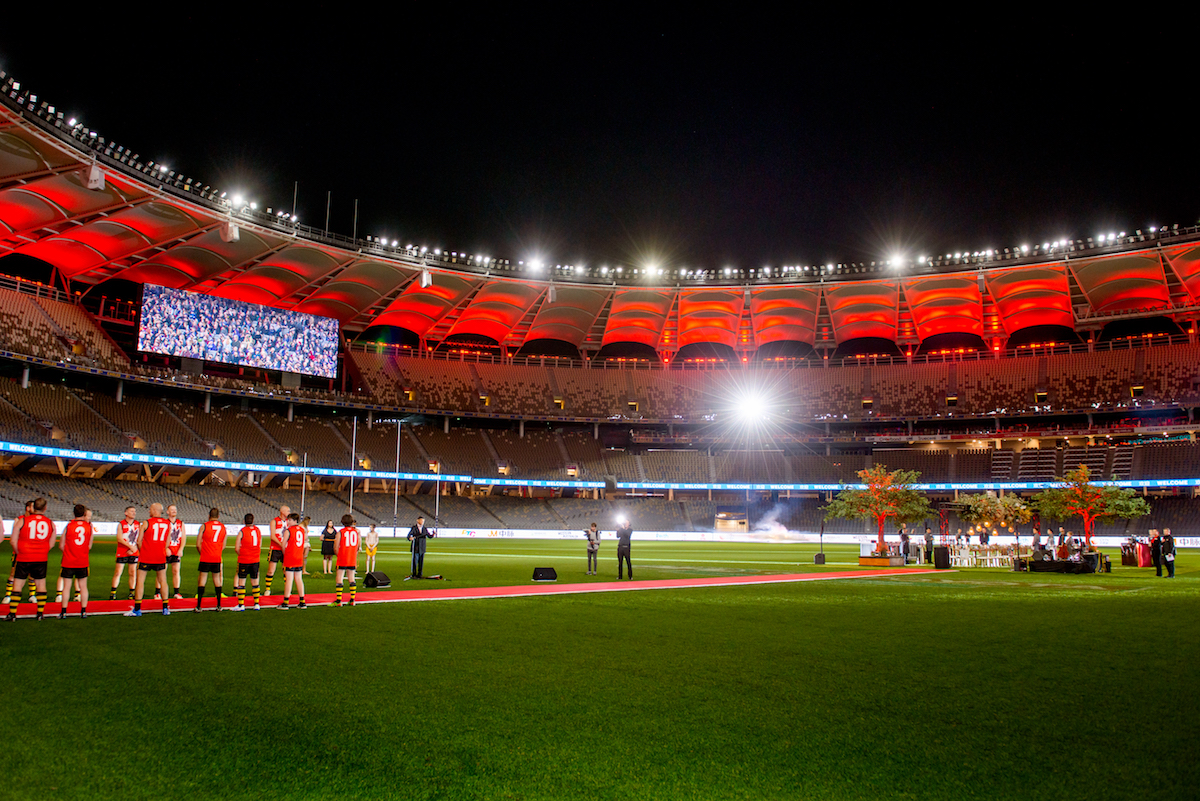 A welcome-to-country followed, with guests making their way down a 42-metre-long red carpet to the oasis in the centre of the ground.
Optus Stadium's in-house culinary team celebrated the best of the West and put together an incredible four-course menu featuring local Western Australian produce that was paired with exquisite WA wines.
Each course was finished by the stadium's executive chef and chef de cuisine on a pop-up kitchen beside the guests, giving the VIPs insight into the production elements for their meal.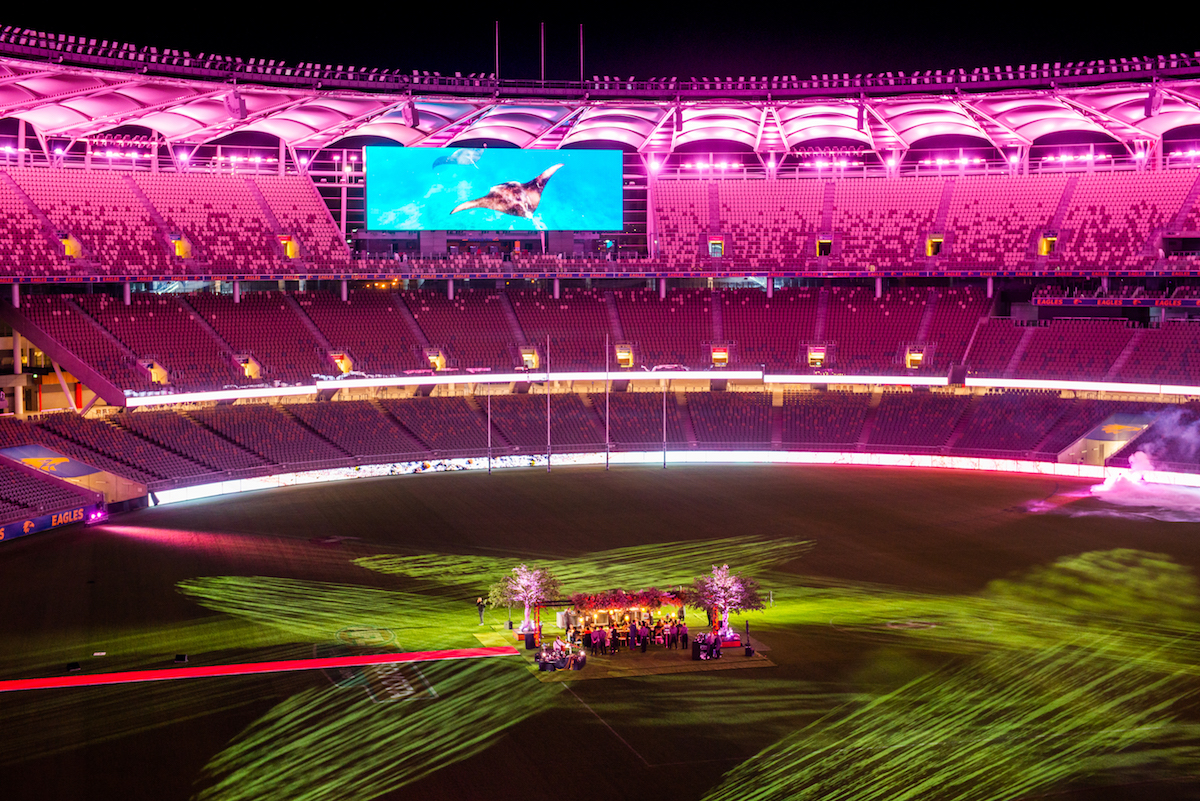 With every new course that was served, the 15,000 LEDs around the stadium changed colour, and video and photo content from the hero region danced across the scoreboards and pitch ribbons, immersing guests in a multi-dimensional experience.
For entertainment, James Wilson's vocals and acoustic guitar blended with didgeridoo for chilled renditions of Australian classics.
Adding to the experience, the smell of native Australian flowers hanging from the truss filled the air, smoke snaked across the pitch creating a cloud-like atmosphere and the lit-up trees framing the dining space made it all come together in a perfect picture. One of the stadium's famous sound and light shows rounded out the entire event.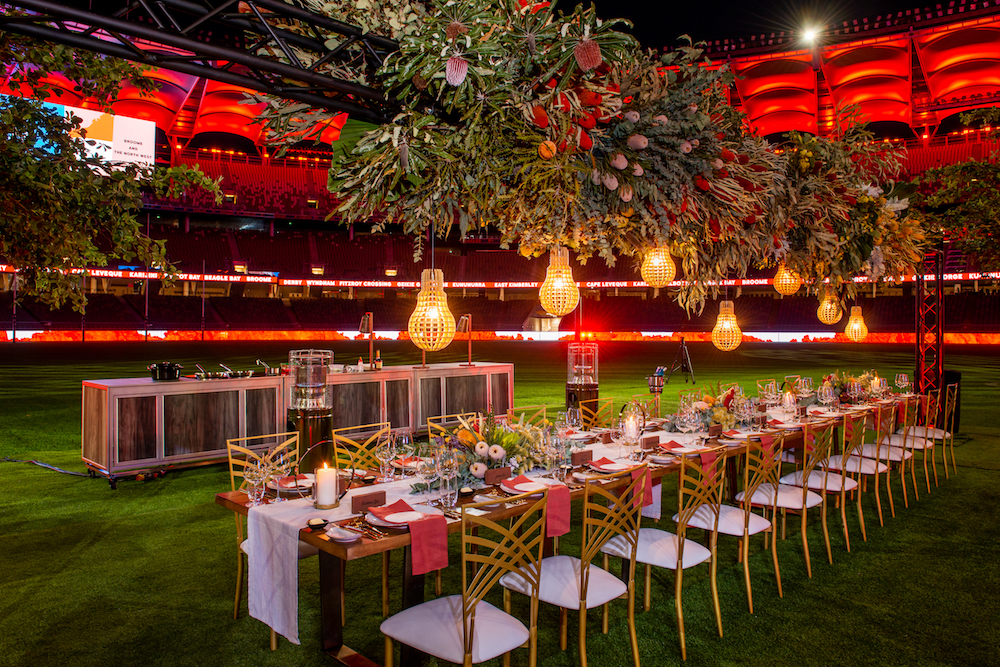 While the event was a spectacular demonstration of how Optus Stadium can host extremely intimate VIP dinners, the field of play is also capable of hosting large-scale dining events of up to 15,000 people – perfect for international delegations, conventions and trade shows.
SUPPLIERS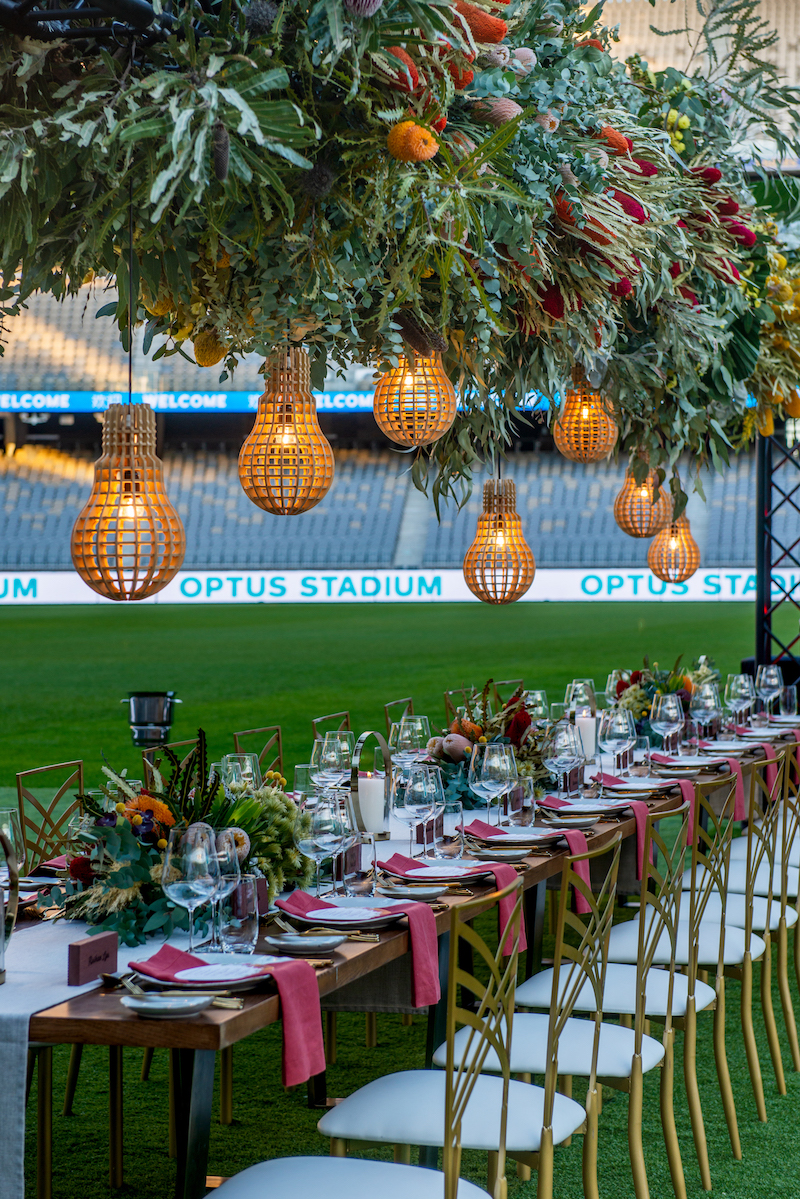 The event was produced in partnership with Perth Convention Bureau, Tourism Australia and Tourism Western Australia, as well as the following suppliers:
Optus Stadium – venue, catering and staff
PAV Events (Perth Audiovisual) – event production, digital content, lighting and audio visual
KOJO – stadium lighting production
Phenomenon Creative Event Services – event styling
Fox & Rabbit – florals
James Wilson Entertainment – music