Decorative Events & Exhibitions has announced the celebration of 10 years in business marking the occasion with a competition to reward an event organiser with $30,000 worth of styling and decorating
Decorative Events & Exhibitions (DE&E) has announced the celebration of 10 years in business marking the occasion in true DE&E style, they have launched a competition to reward an event organiser with $30,000 worth of styling and decorating across their full range of products and services.
Initially, it was proposed to give away $10,000 to celebrate the 10th Anniversary. However, creative director, Peter Fulton responded with "Let's go to town"… so the competition budget was raised to $30,000 to include $10,000 across each of the DE&E business divisions – 'Services', 'Hire', and 'Custom'.
In September 2001, Peter Fulton started with a ute and a few rolls of fabric, quoting from cafes and so the DE&E story began. With the help of managing director, Mark Magennis, the company has evolved from a one-man event decorating service to become a 'creative agency service' for the event & exhibition industries – specialising in styling, design, custom production and hire.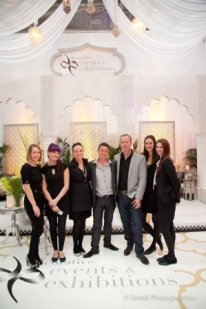 From humble beginnings, Decorative Events & Exhibitions has grown over the last decade to become one of the industry's most trusted and respected suppliers.
DE&E has experienced solid growth over the past 10 years and Peter and Mark hold fond memories of the early years. The boys couldn't have been prouder of Peter's first space – even if it was a derelict old bakery in Mascot. It was basic with no on-site bathroom facilities but it was cheap, so Peter and Mark rolled up their sleeves, cleaned it up and made it work. They were resourceful, had vision and what they lacked in cash flow they made up for with hard work and determination.
The Christmas season of 2005 was a turning point for DE&E, their small shop front in Camperdown was at breaking point and the team had grown to 10 staff. After listening to their clients, it had become obvious that there was a niche in the market for a creative event styling service with quality event hire products. In order to raise the bar and provide a wider range of products and custom services, DE&E needed to expand. The tough decision to relocate to a 1000 square metre warehouse was an 'all or nothing risk' so they rolled the dice and risked everything.
Since 2006 the business has become the industries' 'one-stop-shop'. Their products and services have expanded naturally to keep up with client demand and changing trends. The success of the business can be contributed to the dedication, talent and passion of the creative team – many of whom have been involved since this time.
In 2011, the team at DE&E consists of 50 full time designers, decorators, stylists, producers, carpenters, electricians, sign writers, seamstresses and crew. In the past 12 months, this team was responsible for servicing 852 events, 270 weddings, 176 custom exhibition stands and 1089 dry hires.
Currently their warehouses hold over 2500 individual product lines in quantities suitable to service large scale events. The creative team reinvents this range daily with the assistance of the custom production department to create unique styling for every event or exhibition. The DE&E showroom in
Sydney's Alexandria is open 6 days a week for viewing.
To celebrate 10 successful years, the unique competition allows one lucky event organiser to add $30,000 to their decorating budget
and create an amazing atmosphere for their next event. To enter and view the Terms & Conditions, click here.
Entries will be accepted from 1st July until 11th August 2011. The winner will be drawn on Thursday 11th August 2011 onsite at RSVP Sydney's Event
Showcase on Decorative Events & Exhibitions stand – J17.