Forte Catering & Events has become the first Gold License catering company in Sydney to offer an exclusively organic menu.
Forte Catering & Events has become the first Gold License catering company in Sydney to offer an exclusively organic menu.
In addition to its current stable of premium catering services, Forte can now deliver delicious dishes using only the finest organic ingredients, allowing you to impress your guests with a mouthwatering menu of fresh, organic fare.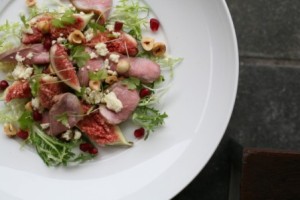 Forte's salad of Murringo lamb, figs, fetta and Mt Buffalo hazelnuts.
Forte's organic catering menu, designed by head chef Anthony Sullivan, has been created to satisfy the discerning palate as well as the environmental conscience of Sydney-siders looking to throw an impressive soiree. Forte's organic menu also works to decrease the distance travelled from paddock to party, with local suppliers from within a 100 mile radius of Sydney fulfilling the majority of the ingredient demands for the organic menu.
"As the organic movement has gained momentum, higher end catering companies to date have not been able to offer their guests a completely organic catering option, and we felt that it was time to change this," said Heath Felton, head of business strategy and marketing for Forte Catering & Events.
"Our Chef, Anthony Sullivan has worked tirelessly to create our organic menu, focusing on demonstrating the natural quality of organic ingredients that are seasonally available without sacrificing any of the quality that people have come to expect from us.
"Forging strong relationships with local farmers and organic suppliers has also allowed us to keep our costs down, meaning we can bring our organic catering service to clients at a very affordable price," said Felton.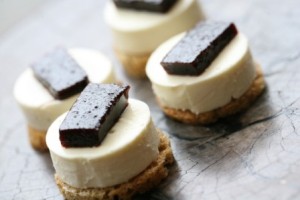 The organic menu includes items such as fromage blanc mousse with raisin rosemary paste.
Those with a sweet tooth will also be delighted to see organic desserts on the menu including soft meringue with poached rhubarb, clotted cream and mulled wine and warm autumn fruit clafoutis with cinnamon and orange crème fraiche.
"I am really excited that Forte is now leading the charge on providing magnificent catering that is dedicated to the purity of organic farming," says Forte's head chef, Anthony Sullivan – who calls the menu "modern organic".
"Putting the menus together was inspirational and gave me the opportunity to discover some truly passionate growers and farmers. Over the years I have been in catering, I have seen many food trends and fads come and go, but to be able to provide 'real' food with environmental and social credibility is something I expect is here to stay," he said.
For more information on Forte's organic catering click here.