Spice News took part in an Instagram masterclass to learn about the latest tips and tools for businesses.
There's no denying Instagram is the place to be right now, but with so many elements to grasp – the feed, Stories, hashtags, the list goes on – it can be hard to know where to start.
Spice News recently took part in a Masterclass in Business on Instagram, where we learnt all the tips and tricks to getting the most out of the platform.
Here are seven ways to maximise your business profile on Instagram, according to Talia Knowles-Rivas, ANZ product marketing lead at Facebook and Instagram.
1. Set up your business profile
In 2016, Instagram created the business profile to provide dedicated tools for business owners on the platform.
"It looks very similar to a normal profile in Instagram, but with a few additional, very useful features," said Knowles-Rivas.
"When you create a business profile, you can share valuable information with people, like your business address, the category of your business or your contact information."
To create a business profile, install Instagram and create a personal profile. Then tap on settings from your existing profile and choose Switch to Business Profile. Fill in your contact information and you're done!
2. Use Insights
"Once you've set up [a business] profile, you have access to a suite of tools to help you understand who your followers are, what kind of posts are performing and how you want to leverage those insights in your marketing," said Knowles-Rivas.
Not only does Insights help you better understand your audience, it also helps you plan content.
"[Insights] gives you an indication of what types of content are resonating really well throughout the day and throughout the week, to help you introduce a bit more rigour and a more systematic approach to how you're using Instagram," said Knowles-Rivas.
You can find Insights in the top right corner of your profile or on each individual post.
3. Utilise Stories
Instagram Stories, or Insta-Stories, launched in 2016 and has since grown rapidly in popularity. They appear at the top of your feed and feature short videos or images that disappear after 24 hours.
Where traditional Instagram posts are highly considered and curated, Stories are authentic and appear in real time.
"Stories are quick, playful and attention-grabbing," said Knowles-Rivas.
"Stories is becoming a very important part of how you can drive traffic to your business profile on Instagram."
Stories are a great way to share behind-the-scenes snapshots of your business or events you host or attend, and can also be used to garner customer feedback through polls.
"There's a range of use cases that we've seen for stories that work really well, from promotions, to unboxing and launches, exclusive behind-the-scenes footage and tutorials," said Knowles-Rivas.
While Stories only appear for 24 hours, you can save your favourite Stories as Highlights, which remain on your profile.
4. Engage with your followers
Instagram's messaging function allows users to connect directly with businesses.
Knowles-Rivas said the function has become more popular than the Instagram team initially predicted.
"We didn't realise it would get so much traction…but we have 150 million people messaging with businesses on Instagram every month," she said.
Knowles-Rivas said people who view an Instagram Story will often respond to it through a direct message, either to ask for more information or to interact with the business.
"Expect more and more messages over time as you start to create more stories," she said.
Messages are an important area for businesses to moderate regularly.
"Make sure you take note of whether you're getting messages and make sure you respond in a timely way," said Knowles-Rivas.
5. Be responsive and authentic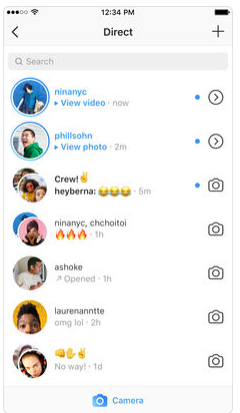 Instagram users expect a prompt response to any messages or comments they make on a business profile.
"It's important as a business to be authentic with the customer you're communicating with and make sure you're very responsive as well," said Knowles-Rivas.
"It's a very vulnerable thing to reach out to someone you don't know and to comment on their post, so it's important to acknowledge that vulnerability and reward it by responding in a timely manner."
6. Use hashtags
"Hashtags are a really important way to get discovered on Instagram and it's an important way to find and build a community that already exists," said Knowles-Rivas.
Use hashtags that are related to your industry, such as #eventprofs, #eventmanagement or #businessevents, and create your own unique hashtags for your audience to use, like #SpiceLoves or #SpiceNews.
"You can encourage your customers to use your hashtags – that's a great way to build a community around a product or brand," said Knowles-Rivas.
Encourage your followers to tag your business profile in their posts as well, to help increase your audience and reach new users.
7. Be consistent and considered
When using Instagram for business, it's crucial to post regularly and interact with your users.
"Being authentic and responsive to incoming queries is part of building engagement up," said Knowles-Rivas.
It's also important to take a considered approach to posting and to think of your main Instagram grid as a "shop window".
"It's the first place where people interact with your brand, once they've seen a post or ad," she said. "So it's really important to make sure you're consistent here, that you have what you want people to see in this grid."
When posting on Instagram, stick to high resolution photos, use relevant hashtags and include a location tag to reach more users.