Featuring easy-to-read layout and accessible design, the e-Guide highlights the city's capabilities for business events with plenty of useful information and inspiration.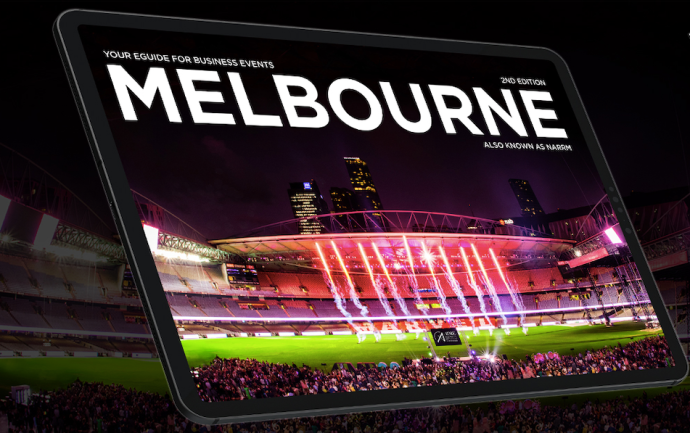 The Melbourne Convention Bureau (MCB) has announced the launch of the second edition of its interactive Melbourne e-Guide, which informs business event planners on why Melbourne is a leading destination for business events.
Highlighting the city's capabilities for business events, the e-Guide features Melbourne's unique new venue offerings, an update on local Accor properties, product and venue ideas, and information on how to create first class VIP experiences at iconic locations such as Melbourne Cricket Ground, Flemington and Melbourne & Olympic Parks and weave events and itineraries around major events like Australian Formula 1 Rolex Grand Prix.
MCB Chief Executive Officer, Julia Swanson said the Melbourne e-Guide was an excellent example of the high-quality planning tools MCB produce for event owners, planners and delegates.
"Melbourne is constantly evolving, innovating and adapting to meet new needs in the business events sector. Since launching the first edition in last year, the e-Guide has become an essential planning tool, encouraging both planners and delegates alike to rethink their next visit to Melbourne," Swanson said.
"Both event planners and delegates will also find the e-Guide's interactive map, used for researching and creating custom itineraries, a fantastic way to uncover all the exciting offerings available during, pre and post the business event."
Featuring easy-to-read layout and accessible design, the e-Guide's embedded interactive map enables event owners, planners and attendees to seamlessly plan their trip and create custom itineraries for site inspections, delegate tours and pre-and-post conference travel, with the aid of videos, images, 360-degree experiences, product descriptors and hyperlinks.
Offering geographic location or category search functions such as Eat, Play, Relax, Conference and Caffeinate, the map is an effective way to familiarise users with how to maximise their time in Melbourne and even provides real time directional features accessible via mobile phones to help guide you through the city.
Tourism Australia supported the launch the Melbourne e-Guide via its Business Events Advance Program which partners with industry on activity that aims to increase the number and value of international business events for Australia.