It comes as Austrade releases the results from the $50 million program.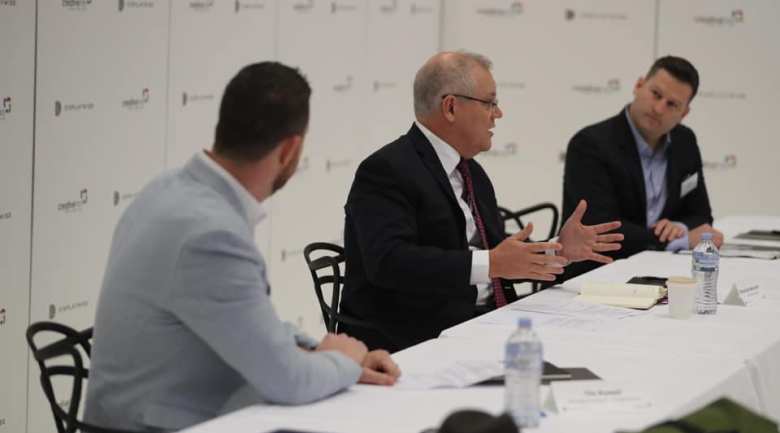 Scott Morrison meeting with business events suppliers in June 2020. Image via Facebook
More than 1,500 applicants have been awarded funding to support their participation in business events, according to results from the $50 million Business Events Grants Program.
Announced in September 2020, the funding was designed to boost attendance and participation at business events by providing financial assistance to delegates and exhibitors.
According to the latest update from Austrade, the program received 1,729 eligible applications requesting a total of more than $56 million in funding.
Austrade said the full $50 million was exhausted, with more than 1,500 applicants successfully awarded grants.
Austrade says the Federal Government is now considering next steps regarding the program, including "eligible applicants who did not receive funding due to the program allocation being exhausted and potential new applications under a program extension".
Government considers next steps
Exhibition & Event Association of Australasia (EEAA) chief executive Claudia Sagripanti and Talk2 Media & Events CEO Matt Pearce were recently involved in a Q&A with Austrade on the results of the program.
Sagripanti said while they are waiting to receive the final report on the program, the need for continued government support is still crucial.
"The grants were heavily oversubscribed, indicating the high level of need and interest – and the industry is going back to government with a request for continued support," she said.
The Business Events Grants Program was divided into two phases.
The first phase saw business events owners submit an expression of interest to have their event included in the Schedule of Approved Business Events.
Phase two then invited delegates and exhibitors to apply for grants to meet up to 50 per cent of the cost of them participating at pre-approved business events, between $5,000 and $250,000.
An update on the program's extension is set to be made soon.
More reading
Exclusive: Austrade's Business Events Grants program under review
'Don't suffer in silence': NSW businesses urged to seek support
Business events to resume in Victoria as restrictions ease