After a record-breaking month, AV1 has welcomed four new team members and is on the lookout for larger premises to meet renewed demand.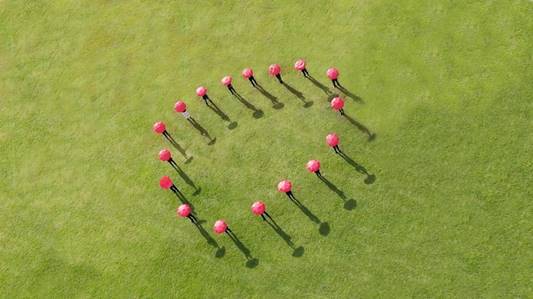 Drone shot of AV1 team.
Specialist agency for audio-visual and digital media for events, AV1, has announced it is expanding its operations in order to meet demand for events across Australia.
Following a record-breaking month in May which saw the business produce more than 120 events across the country and earn its highest revenue level in 17 years, AV1 has welcomed four new staff members, a new hotel partner, is looking to move to larger premises and has renewed the vision for its content department.
New appointments include filmmaker Kai Raisbeck, who will lead AV1's creative content department as content producer, and Federico Pancotto, an experienced technical director will bolster the technical output of the team. The Operations Department has also welcomed two new additions to support the team.
As the company continues to strengthen its live and hybrid events offering and grow its team further, AV1 managing director Keith Wootton said the team is revelling in the renewed confidence across the events sector and it felt good to be moving forward once again.
"We've adapted and supported our clients over the past two years with online and studio products, and now we're welcoming clients and staff 'back to live'," Wootton said.
"Our recent appointment as the preferred audio-visual partner of ACE Hotel, is a key example of our focus on the future. By strengthening our team, services and partnerships, we will continue the momentum that AV1 has become known for."
Ending the month with a bang, AV1 designed and executed the entire production and on-site content for the AREC Conference, held on the Gold Coast this week, which included a dial-in from celebrity speaker, actor Matthew McConaughey.
AV1 has also just kicked off its new campaign, 'Love Events, Love AV1' with a new brand video, social media campaign and competition, which aims to reignite passion, inspire creativity and build on the love of the Australian events industry.