Perth gets Australia's first crowd-funded restaurant.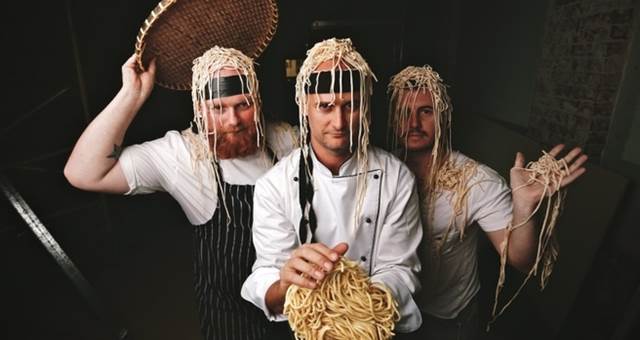 Lucky Chan's Ryan Larsen, Daniel Stepini and Andrew Bennett. Photo credit: Jarrad Seng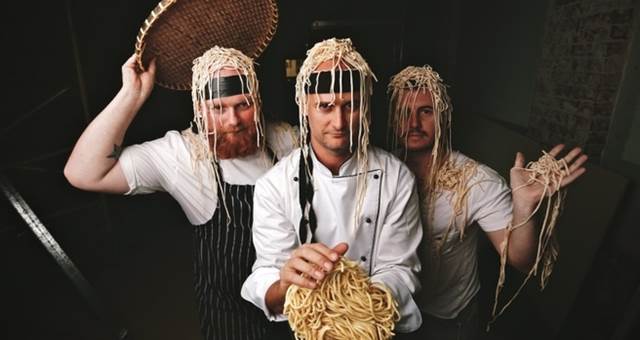 Perth gets Australia's first crowd-funded restaurant.
Western Australia has welcomed the country's first permanent crowd-funded restaurant after more than $100,000 was raised to help make the ambitious project a reality.
Doors opened on Tuesday to the first customers at Lucky Chan's Laundry and Noodlebar, marking the successful completion a 60-day Pozible crowd-funding campaign conducted in late 2014 that aimed to raise $100,000 in financial support to bring the laundry-themed eatery to life.
The campaign saw hundreds of pledgers from around the world raise $112,585 that was used to complete a 60-seat open air rooftop at the restaurant.
Lucky Chan's General Manager Sasha Verheggen said while the team are excited to welcome Perth people to the restaurant, she is especially keen to repay the support Pozible pledges had shown them.
"Quite simply our vision for this project could not have happened without the support we received – most of it from people we'd never met – who believed in us and what we wanted to deliver to Perth," she said.
"For a small business owner and restaurateur, that is extremely humbling and we're very fortunate so many people responded to our plan for Lucky Chan's," she said.
Lucky Chan's is the latest project from the team behind Cocktail Gastronomy Catering and North Perth's award-winning small bar, The Classroom. Lucky Chan's Venue Director Andrew Bennett said as the owners themselves built much of the restaurant, Perth punters can expect a dining experience like no other.
Bennett said, "There is no question that Perth's growing sophistication in eating and dining out must be matched by an equally evolving product offering so with Lucky Chan's we've tried to create a concept dining experience not currently offered in WA.
"As well as a highly thematic three-level restaurant environment, we've responded to many diners who told us they couldn't find decent dining options late at night. For that reason we are extending our opening hours well past midnight meaning people can still get handmade dumplings, house-made noodles and our great range of wines, beers and cocktails later in the evening," he said.
Lucky Chan's Operations Manager Daniel Sterpini said the restaurant pays homage to the cultural history and legacy Asian immigrants brought with them when they settled in Northbridge but provides a new interpretation on many Chinese and Japanese cooking techniques.
Sterpini said, "Although one third of the group behind Lucky Chan's is Japanese, we're all hopelessly addicted to the wonderful flavours of Japan, China and beyond. That's why we've invested so heavily, both mentally and physically, to get our food to the highest possible standard – whether that's from our Japanese noodle machine, our reverse osmosis water filtration system, Binchotan charcoal-activated water or simply the deep love affair we have for this style of cuisine."
Lucky Chan's Laundry and Noodlebar is located at 311 William Street, Northbridge, WA.