The $25 million renovation covered all 587 of its accommodation rooms.
Hilton Sydney City Suite
In a major $25 million transformation project, Hilton Sydney has refurbished all 587 of its guest rooms and suites.
Each of the 40 suites and 547 rooms feature brand new soft furnishings including carpets and curtains, plus European tapware, recliners, bedside lights and 55-inch smart televisions.
The hotel has also introduced two new room types: the Corner Room, offering two extra square metres and an extended view of the CBD skyline, and the Family Room, made up of two connecting rooms.
Hilton Sydney general manager Hayden Hughes said the team is pleased to kick off 2021 with a reinvigorated product.
"Providing an upmarket guest experience while offering a gateway to Sydney's CBD has always been a priority for the hotel," he said.
"With the renovation, Hilton Sydney has further enhanced its position as the ideal base for travellers to immerse and explore Sydney from, and for business guests to meet and connect at."
Overseeing the design was Sydney-based A+ Design Group, who were tasked with overhauling the traditional desk setup, which previously took up considerable floor space.
"In its place in each room and suite is an oversized Italian armchair and ottoman coupled with a custom table which guests can work or dine at," said A+ Design Group director Mike Watson.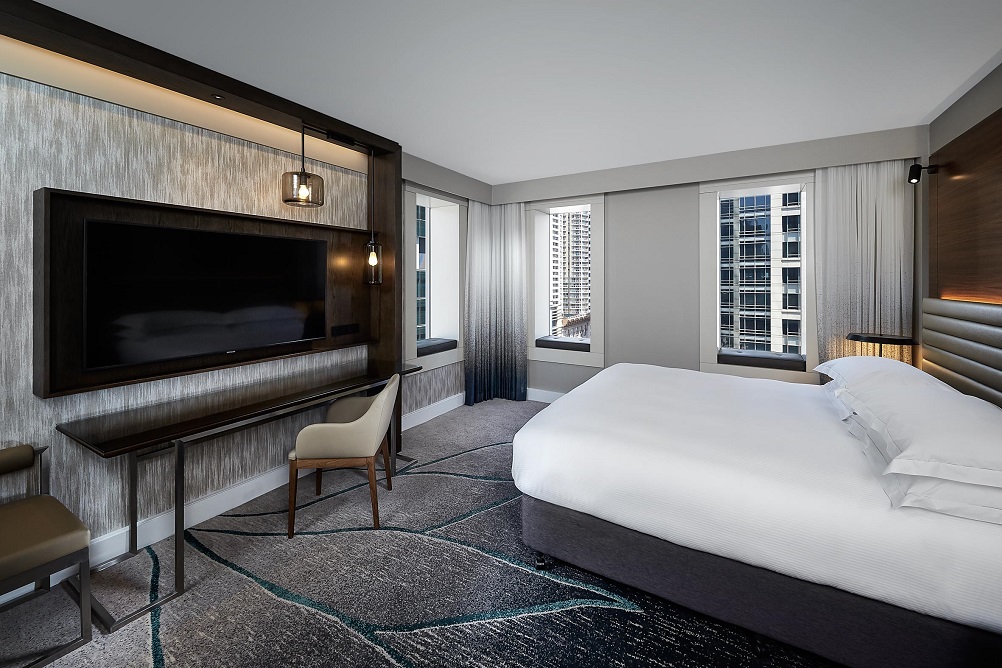 New artworks have also been installed in each room, with three female artists, Camie Lyons, Angela Hayson and Bec Tarrant, commissioned for the pieces.
The new-look rooms compliment the hotel's existing facilities, including more than 3,700 square metres of event space, an indoor swimming pool, a chef's hatted restaurant run by Australian chef Luke Mangan and two bars.