The 73-room property offers short- and long-term accommodation for the modern business traveller.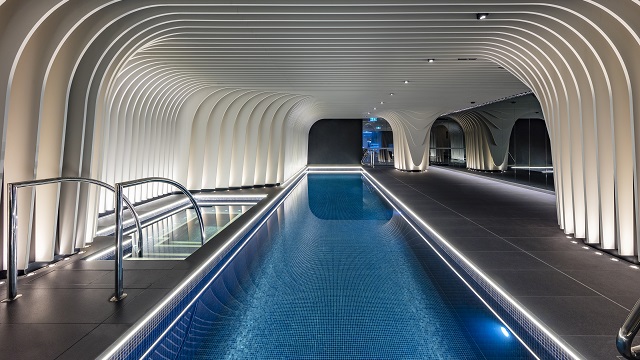 Skye Suites Sydney's arch-shaped pool
Skye Suites Sydney's ice cave pool
Skye Suites Sydney has opened its doors in Sydney's CBD, offering short- and long-term accommodation for the modern business traveller. 
Location at 300 Kent Street within the $250 million Arc by Crown Group development, Skye Suites Sydney offers 73 luxury serviced apartments, including studio suites and one- and two-bedroom suites.
Each room is complete with Delonghi appliances, Vittoria coffee machines, Kevin Murphy toiletries, complimentary Wi-Fi and laundry facilities.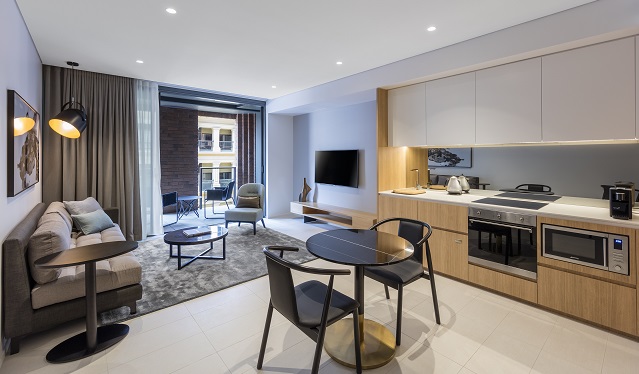 Modern facilities include a pool and gymnasium, while the rooftop and ground-floor retail precinct will be completed in November.
Located within walking distance to ICC Sydney, the hotel aims to attract domestic and international business travellers looking for a touch of luxury in the heart of the city.
The building itself is an impressive centrepiece designed by renowned architect Koichi Takada, with arched metal fins curving over the hotel's exclusive Horizon Lounge and rooftop.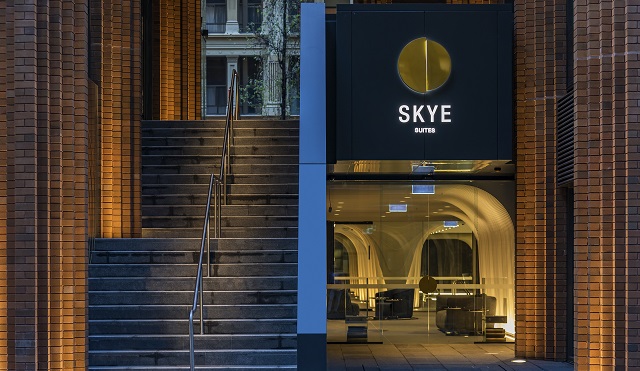 "This architectural masterpiece in the city's CBD will not only form a striking addition to Sydney's skyline, but will enhance the existing streetscape for domestic and international guests, and Sydneysiders," says Crown Group chairman and group CEO Iwan Sunito.
Crown Group has also worked to restore Skittle Lane, which runs alongside the property and was originally built in the late 1980s as a laneway to service the surrounding warehouses.
Once used as a bowling alley for sailors and soldiers, Skittle Lane has been repurposed as a pedestrian and boutique retail thoroughfare.
It will soon house a new food hub, featuring a number of dining outlets such as Japanese restaurant Izakaya & Ramen Michi.