Spice talks to Swissotel Sydney executive chef Thomas Heinrich about how to adapt your menu for summer.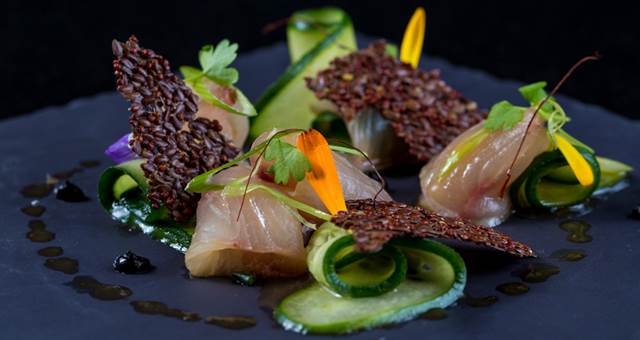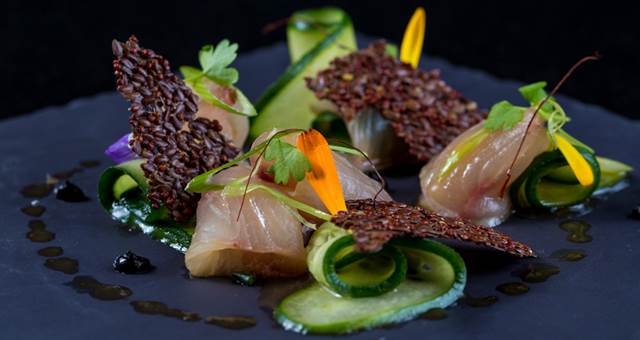 Cleanseas hiramasa king fish with cucumber, ponzu dressing, black garlic and flax seed
Spice talks to Swissotel Sydney executive chef Thomas Heinrich about how to adapt your menu for summer.
1. How do you adapt your menus in summer?
The ethos at JPB [Swissotel's restaurant] is locally sourced, seasonally inspired so new menus are created each season based on ingredient availability and quality.
2. How do you make a party menu healthy without taking away the wow factor?
As long as food is fresh and you stay away from pre-made, frozen foods, you can still create a healthy party menu. Even butter in small amounts is really good for you, it also brings out the flavours in ingredients. My tip is to use the best seasonal food you can find and keep it simple. Most health issues come from the amount of food that you eat, not always the types of food.
3. What are the big trends, ingredient-wise, in healthy menus at the moment?
Foraging is and should be a big part of menus. Local, fresh food is better for you and should taste better because you are cooking in seasons. This is not always easy depending on where you live; in Sydney it can be hard to find true local ingredients.
4. And what are the presentation trends for them? How do you like to present your dishes and canapés?
I like food that is pretty using a little molecular components to enhance presentation. The china that you use plays a big part in the way the food looks. Trends from around the world show that we have moved away from white plates into earth tones which I also like to work with.
5. What would you say are the most important things when trying to evoke a 'summer' feeling in diners?
Seasonal is the key. Summer to me means lighter food, beautiful olive oils, tomatoes, corn, melons, zucchinis. Stay away from braised items. In Australia summer means the beach so you can focus more on seafood and the umami tastes.
6. Who or what inspires your menus?
I start with ingredients, they are my main source of inspiration, using something in a way that I haven't tried before or changing something just slightly is all part of the creative process. The next step is looking at other restaurants around the world and what the great chefs are doing. All food trends follow the great chefs and it normally takes a year or two before it catches up.
There are a few amazing chef's that I follow including Thomas Keller (The French Laundry), Daniel Humm (Eleven Madison Park), Rocca brothers (El Celler de Can Rocca), Jöel Robuchon (Le Monde) and Yoshiaki Takazawa (Aronia de Takazawa).