Darwin Convention Centre is expecting to welcome more than 1,000 delegates from Australia and overseas to the four-day event.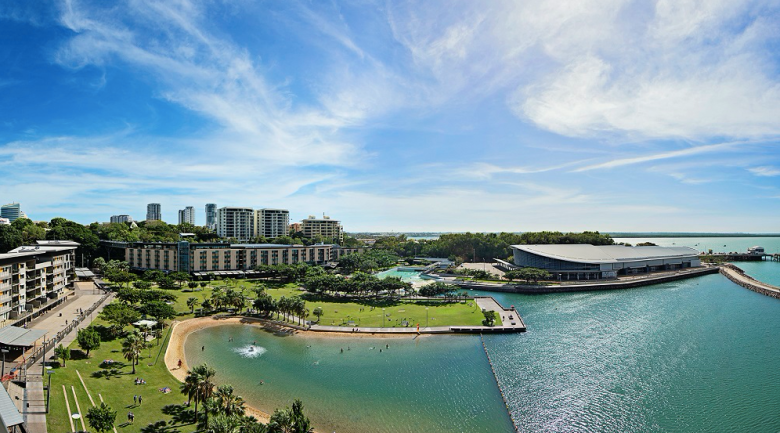 Darwin Convention Centre and Darwin Waterfront Precinct. Image credit: Darwin Waterfront Corporation.
Darwin will host the 2023 World Aquaculture Conference and is expecting to welcome more than 1,000 delegates from Australia and overseas to the four-day event taking place 29 May to 1 June 2023.
Northern Territory Business Events (NT Business Events) and Northern Territory Fisheries partnered with the Darwin Convention Centre to secure this international conference.
"The Northern Territory has established an international reputation for excellence and innovation across many industry sectors, so we were delighted to be successful in attracting another conference which is so very relevant to the NT's strengths," NT Business Events director Rebecca McCaig said.
Darwin Convention Centre general manager Peter Savoff said he was delighted with the win for the Centre.
"Our world-class facility is perfectly positioned in northern Australia's tropical Top End to provide delegates space to think, connect, and engage with local experts on best-practice standards in producing safe, sustainable, and high-quality seafood products."
The Northern Territory Government aims to accelerate agribusiness and aquaculture and grow a $40 billion economy by 2030, with the Darwin Aquaculture Centre being transformed into a centre of excellence in tropical aquaculture research.
It is expected that the staging of the conference will highlight the significant opportunities for aquaculture development in the state.
Tourism Australia is supporting the World Aquaculture Conference 2023 in Darwin through its Business Events Bid Fund Program. The NT Government's long-term business events strategy supports the attraction of international conferences through the NT Business Events Support Fund which offers financial assistance to eligible organisations considering the Northern Territory as the location to host their business events.