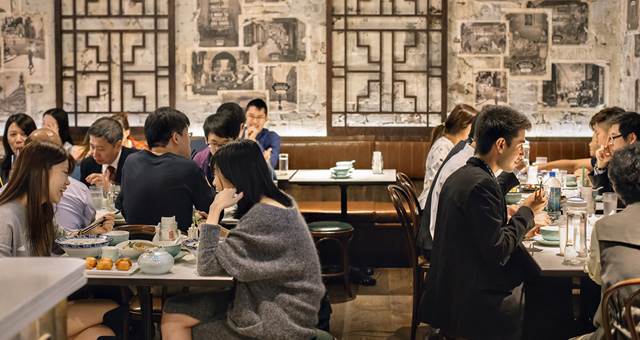 Are you looking for a private dining room with a colonial Chinese twist?
Taste of Shanghai, located on the basement level of World Square, has a private dining room that can be configured for 12 -24 diners.
Re-opening its doors after a significant refurbishment in September, the Sydney CBD favourite is serving up its popular brand of traditional Shanghainese food, including its signature house-made xiao long bao, pan fried pork buns, and mouth-watering wontons in red chilli-oil sauce.
With interiors by Giant Design, Taste of Shanghai World Square draws its inspiration from Shanghai's winding backstreets, areas known as lilongs.
Design highlights include recycled brick with aged plaster, distressed toile wallpaper, oversized Chinese screens, and art deco pendants and mirrors. Plush green velvet curtains are used to divide private rooms, with tables sitting on a lush green rug to contrast against the rugged materials. Giving a personal touch, several of the wallpaper images feature Mi as a child growing up in China.
The venue also boasts an adjoining dim sim section, reminiscent of a home kitchen, where live dumpling making adds an element of theatre.
With sit-down capacity for 100 and stand-up capacity for 120 people, Taste of Shanghai can be booked exclusively for private events and is open for lunch and dinner, 7 days a week.
Taste of Shanghai World Square is located at Shop 907, 644 George Street, Sydney NSW.