The White Horse in Surry Hills has been reimagined as an American-inspired biker bar downstairs and breezy summer terrace upstairs.
New owner Steven Hiles has injected atmosphere and warmth into the previously quite sterile bar by dividing into two distinct small bars within the one establishment. Licensee and manager Adam Haddad, formerly of Wild Rover, Stitch and The Winery, to name a few, said that the food and drink menu changes daily depending on what's in season.
Downstairs has a touch of mechanic's lair with rustic wooden finishing, lived in leather couches and a live music stage. The menu features upmarket dude food like buttermilk chicken burgers and dark spirit-fuelled cocktails.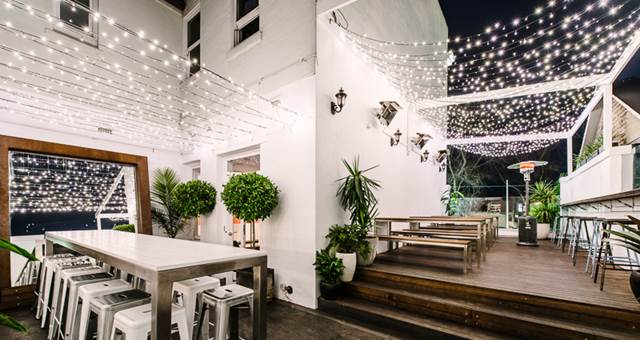 Upstairs has been dubbed Lady Godiva's and is white, airy and serves light salads and white spirits blended with fresh juices to create 'super' cocktails.
Haddad said, "We're all very health conscious these days so we are going to offer drinks made with kale, celery, goji berries, quinoa vodka, pineapple, cucumber – lots of different things – to help people keep their sugar intake down and keep hangovers at bay."
In addition to the outdoor terrace and upstairs bar, there is also a fully contained function room, complete with drop down television for presentations, a private bar, a smoker's balcony and polished wooden floors.
The function room can be booked any time of the day or night, the terrace tables can be booked prior to 6.30pm and areas of the bar can be reserved for functions Mon – Thurs.