Introducing Trippas White Group's Fresh Faces in its portfolio; The Calyx is Sydney's newest event space within the Royal Botanic Gardens and the Group's much loved Pavilion on the Domain has launched with a new look and feel.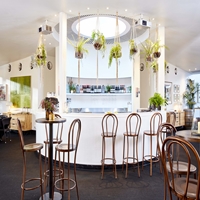 The Calyx
The Calyx is Sydney's newest venue and attraction within the Royal Botanic Gardens, boasting stunning architecture and the Southern Hemisphere's largest living botanic exhibition.
The Calyx is perfect for all types of corporate and social events, particularly those looking to create a unique and premium experience for their guests.
If you are interested in checking out the new event space, Trippas White Group is hosting a decadent Morning Tea and viewing of the venue, including the Sweet Addiction display, on Thursday 15 September from 8.00am – 9.30am.
As places are strictly limited, please register your interest by emailing Stephanie at Stephanie.rietkerk@trippaswhitegroup.com.au
Once your registration is confirmed, we will send you a formal invitation.

The Pavilion on the Domain
Much loved and well known venue The Pavilion on the Domain has unveiled a new look, with fresh white wood finishes, newly tiled central bar featuring greenery, copper lighting and furniture, cosy lounge areas throughout and more. The picturesque terraces still offer the same beautiful city skyline and outlook with a new buzz of energy and cool tunes to create a fresh new vibe.
With the unveiling comes new social and corporate offerings, including cocktails and canapes, BBQ packages, masterclasses, Christmas festivities, dinner events and more. Our events team are especially gearing up for Christmas with packages for small groups and larger private parties starting from $57 per person.
To organise a site visit of the new look Pavilion or enquire about our new offers, please contact Amy Clayton on Amy.Clayton@pavilionrestaurant.com.au or call 02 9232 1322.