Sydney's newest botanical inspired event space, The Calyx, is located within the beautiful Royal Botanic Garden, Sydney, and is now available for social, corporate, wedding and private events!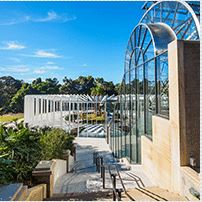 Sydney's newest venue, event space and must-see attraction within the Royal Botanic Garden Sydney is The Calyx. A fusion of art, theatre and flora, The Calyx boasts stunning architecture and features themed exhibitions.
Trippas White Group is the proud and exclusive hospitality partner of The Calyx, providing premium services and event menus exploring Australia's best and sustainable produce. Guests can immerse themselves in the greenery, while sipping on wine and indulging in food curated to reflect the garden, surrounds and exhibitions.

Offering spaces for sit-down and cocktail events, The Calyx is the perfect setting for something truly spectacular and out of the ordinary. The versatile venue is suitable for a range of indoor and outdoor corporate and private events such as celebrations, launches, dinners, seminars, weddings, fashion shows and more. Work with our events specialists to develop an engaging and impactful event experience for your guests that will leave a lasting memory.
Westpac, alongside iconic Australian fashion designer Carla Zampatti, unveiled its new corporate wardrobe at The Calyx in October, which showcased the space and the vast capabilities of what can be achieved within the venue.

The Calyx (pron. kal-iks, def. 'The outermost whorl of flowers') is also a world-class horticultural space that showcases ever-changing exhibitions, which launched recently with Sweet Addiction – the botanic story of chocolate.
If you are interested in using the Sweet Addiction exhibition as the backdrop or chocolate inspired theme to your next event, Sweet Addiction is showing until April 2017. Featuring the southern hemisphere's largest contiguous green wall, with over 18,000 plants arranged into living artworks representing the Mayan God of Chocolate, a traditional chocolate box, and more.

Company Contact details
The Calyx
Royal Botanic Garden, Sydney
Mrs Macquaries Road, Sydney 2000
0466 795 943
Email: calyxevents@trippaswhitegroup.com.au
Website: https://www.botanicrestaurant.com.au/locations/the-calyx