James Pegum, CEO at Venue management and booking software specialist, Priava, shares some of the company's expertise to provide 5 steps to help venues maximise their bookings and offer the best possible experience for clients and their guests.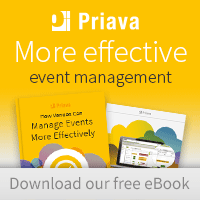 1. Take the lead
According to Hubspot, 20% of sales professionals cited manual data entry as their top CRM challenge. So whilst the capture of new leads is the first step towards a new booking, it is also an area that is prone to errors and is hugely time-consuming. To avoid duplication consider introducing self-service web forms, so that the potential prospects enter their own requirements on-line.
2. Convert the sale
Once an enquiry is qualified the next step is to facilitate the booking confirmation. Start with really listening to their requirements and in turn provide detailed information that allows them to envisage your venue as the best fit for them. Create regular reports on your 'open' opportunities so the sales team can manage all post-visit follow-ups to convert the sale.
3. Plan ahead
If you are coordinating multiple events at the same time, then it makes sense to create automated reports and reminders so you can clearly see your daily and weekly tasks and spread the load.
4. Exceed expectations
Like life, any event is no dress rehearsal, so you only have one chance to get it right. Communication is key, so supply your team and any third party suppliers such as caterers with all the relevant instruction they will need to do their job. Providing briefings and updates on a 'need to know' basis will guarantee that nothing is left to chance.
5. Measure your performance
Post-event client feedback is essential if you want to replicate success or make improvements in the future. Creating an on-line survey is one of the easiest ways of gathering comments and gauging the results.
Getting it right first time will secure a steady flow of on-going business with minimal effort.
For more detailed information, Priava has just published a free e-book entitled, "How venues can manage events more effectively" that can be downloaded here www.priava.com/resources