On November 1 we celebrate this catering classic.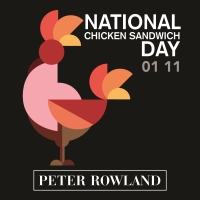 Whether you like it smothered in mayo, jewelled with celery or flavoured with walnuts, Australia's love of the classic chicken sandwich will be celebrated officially on 1 November as part of the inaugural National Chicken Sandwich Day presented by Peter Rowland.
National Chicken Sandwich Day is Peter Rowland's gift to the nation. It celebrates what the legendary caterer has achieved; culinary cult status for perfecting the art of making a chicken sandwich.
To celebrate on November 1, Peter Rowland is hosting a special event for media and friends to celebrate the revered chicken sandwich. A handful of fashionable ambassadors have jumped onboard to attend the event including Con Iliopoulos, Creative Director and Designer for CON ILIO, Phoebe Montague, founder of leading fashion blog Lady Melbourne, and Margaret Porritt, founder of the Feathers boutique and fashion label.
Peter Rowland venues including Mossgreen Tearooms, ACMI Cafe & Bar and the NGV Tea Room will be putting the classic chicken sandwich on the menu for everyone to purchase and try for one day only. And one hundred offices around Melbourne's CBD will be surprised with a gourmet chicken sandwich hamper delivery.
Group Executive Chef of Peter Rowland Group, Matthew Haigh, says the chicken sandwich is a timeless classic and the absolute must-feature of the catering world. While some food trends have come and gone, he says the chicken sandwich has stood the test of time and shows no signs of losing its popularity.
The chicken sandwich is to catering what the Chanel handbag and little black dress are to fashion. Within the enclaves of high-society, the chicken sandwich remains shrouded in mystery. Of course, everyone has their own take on the it – there are secret recipes that have been handed down through the generations."
National Chicken Sandwich Day will be celebrated on November 1. Follow @PeterRowlandAU on Instagram for updates. And share your chicken sandwich pictures using the hashtag #PeterRowlandNCSD for a chance to win your own gourmet hamper delivery!
Click Here To Contact Peter Rowland