NSW Parliament opens pop-up restaurant.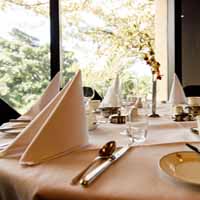 Parliamentary Catering is pleased to announce that we will be opening the doors of the Strangers' Dining Room this Christmas for a very special pop-up restaurant. It's the first time we have ever been open to the public and is an exciting chance to experience what it's like to dine in a place usually reserved for politicians, dignitaries and even visiting royalty.
The restaurant will be open from November 21 to December 23 and our acclaimed Executive Chef, Mr David Learmonth, has created a delicious festive-themed lunch menu. Specials will include sous-vide turkey roulade, saltbush Milly Hill lamb rump, eggnog ice-cream and a candy cane sorbet, just to name a few. The parliamentary kitchens are stocked with some of NSW's finest produce, and with each meal paired with local wines and beers, it's a complete showcase dining experience.

"We are so excited to be opening the dining rooms to the community," said Philip Freeman, Director of Parliamentary Catering. "It really is an experience quite unlike any other – fine dining in a room steeped in politics, history and culture. You're not going to find that anywhere else in Sydney."
Parliament House is a heritage icon. Lunch guests will enter through the beautifully-restored legislative foyers, which have stood on Macquarie Street since 1816. Here they can view the many artworks and artefacts, learn more about our colonial beginnings and even visit the Legislative Chambers for an up-close look at the home of modern politics.

Then it's a short walk through the marbled Fountain Court before arriving in the dining rooms, where lunch is served with floor-to-ceiling views over the Domain.
Bookings are essential and can be made by phoning Parliamentary Catering on 02 9230 2248 or by emailing dps.catering@parliament.nsw.gov.au