Melbourne's Marriott Hotel has appointed a new executive assistant manager.
Daniel Payne Moves to Melbourne Marriott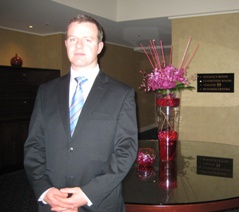 Melbourne's Marriott Hotel has appointed Daniel Payne as its executive assistant manager. Payne, who has come from Perth with 10 years hospitality experience, has worked for Mirvac Hotels and Resorts as operations manager for the 5 star Quay West Resort Bunker Bay in Dunsborough. Prior to that, he spent 4 years at the Young and Jackson Hotel as the venue manager.
He will report directly to Antony Page, General Manager, and will be responsible for both the front office and food & beverage operations.