Urban Events Venues and Catering hosted a VIP mid-year wonderland dinner for 60 special guests.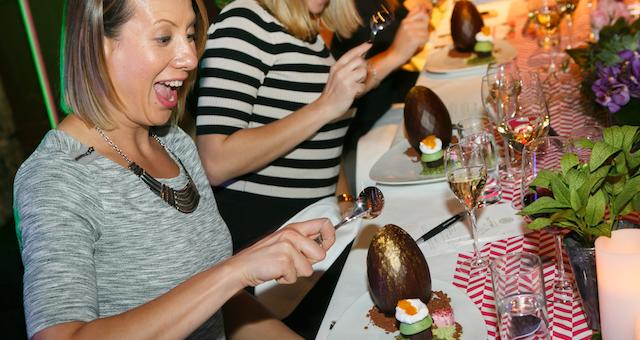 Image courtesy of Oneill Photographics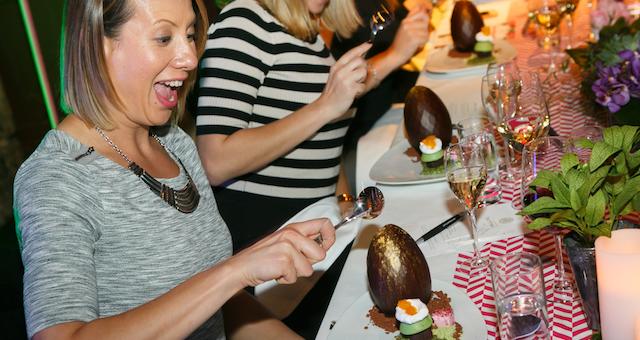 Urban Events Venues and Catering brought a sprinkling of magic and madness to The Argyle Precinct in The Rocks last week when it hosted a VIP mid-year wonderland dinner for 60 special guests.
The event was held last Thursday night in the UrbanXchange Private Dining Room, which was themed in fairy tale, 'Wonderland' style, featuring over-sized toadstools, giant flamingos, playing cards and a golden harp.
The enchanting backdrop showcased the artistic talent and wizardry of Urban Purveyor Group chefs and drinks specialists, led by Culinary Director Martin Heierling and Corporate Chef, Damien Brassel.
Arrival cocktails included a 'Drink Me' cocktail of Hendrick's Gin, shaken with elderflower, cucumber, mint and lime and finished with a spritz of absinthe, while the 'Hatter's Hibiscus Tea' comprised a delicious mix of hibiscus tea, sochu, lime and soda served in tea cups.
The menu was written as a story, to add an element of surprise, and delivered in a cloud of dry ice. It was matched with Champagne and set in motion with two spellbinding amuse bouche: the first a puzzle of jellies in edible paper, followed by a tea cup of mushroom madness.
An edible sand and seafood entrée was followed by a palate cleanser of fruit sorbets and popping candy, then rich beef cheeks with pickled walnuts, and a smashing chocolate dragon's egg for dessert. The grand finale was an edible garden comprising chocolate soil, tiny magic mushrooms and mystical moss.
Urban Purveyor Group Director of Sales Julie van der Weegen said the Mid-Year Wonderland Dinner showcased the creativity of the Urban Purveyor Group's event and culinary team who engineer tailored menu experiences for clients' events.
"We wanted to treat some of our most valued clients to a little childhood fun and culinary fantasy," van der Weegen said.
"Our team of talented chefs create bespoke experiences for our clients on a daily basis and the Mid- Year Wonderland Dinner was a wonderful example of the tailored experiences they can create."
Check out the Event in the Spotlight to see more images courtesy of Oneill Photographics.