This Australia Day, Sydney's Hyde Park is hosting a huge program of entertainment and activities including live music, a wine garden, a 10K run, the Lord mayors Citizenship Ceremony and the much anticipated Sydney's Biggest Backyard
By Gwen O'Toole
This Australia Day, Sydney's Hyde Park is hosting a huge program of entertainment and activities including live music, a wine garden, a 10K run, the Lord mayors Citizenship Ceremony and the much anticipated Sydney's Biggest Backyard.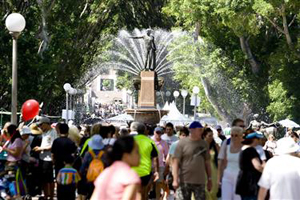 This Australia Day Hyde Park will again be transformed into Sydney's Biggest Backyard.
Celebrating the tradition of Australian BBQ's the Hunter Valley's
Blue Tongue Brewery
will feature an entire month of promotions for Bluetongue beer including the official sponsorship of the Biggest Backyard Event on January 26
th
. Bluetongue Bars will be set up throughout the event giving samples and allowing attendees to meet the brewers to talk about beer and food matching.
Bluetongue will also be hosting unique events at venues around the country, launching on Australia Day with free BBQ's and tastings.
Additionally the backyard event will include a great Australian BBQ, live radio broadcasts, a main stage featuring Dancing with the Stars celebrities and wine lovers will enjoy Wyndham Estate's mobile cellar door.
The event begins at 10 a.m. continuing on until 9 p.m. For more information on the Biggest Backyard event click
here.