Scope Productions staged a gala dinner at Luna Park's Big Top on September 3, 2016.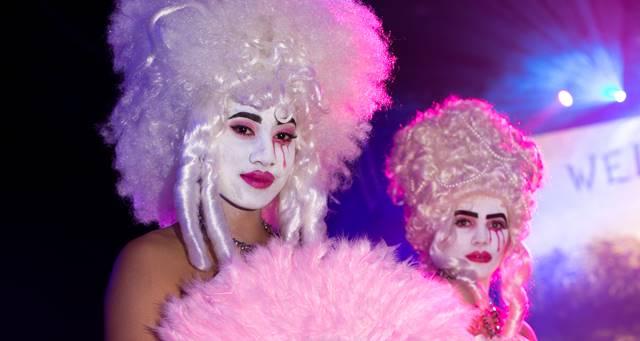 Scope Productions staged a gala dinner at Luna Park's Big Top on September 3, 2016.
The event, led by MC Alan Jones AO, catered to 800 of Save Our Sons' sponsors and guests, whose collective effort on the night raised over $500,000 for the cause.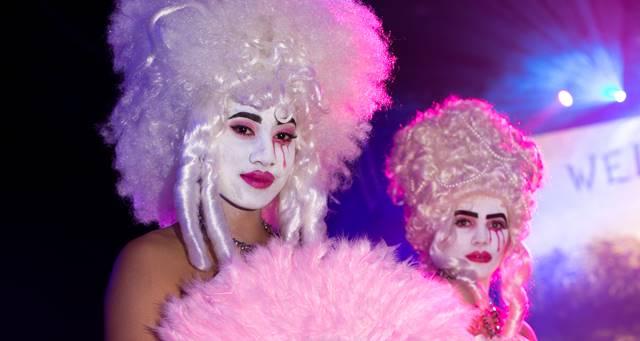 The Scope team worked closely with top industry suppliers to create an atmospheric, 'fractured fairy-tale' theme throughout the night.
Luna Park's Big Top was framed with black drapes that provided a contrasting backdrop for three 18-metre large projection screens, each displaying custom animations produced by Scope Productions.
An installation that included a 5-metre tall fantasy tree, decorative mushrooms and fairy-tale props filled the room's centre underneath a large fantasy clock that referenced the evening's first chapter: 'Alice in Wonderland'.
The central installation hung from the venue's ceiling, above the catwalk and diamond entertainment stage. This ornate ceiling installation featured bicycles, chandeliers and large floral arrangements to mirror specific aspects of the evening's entertainment and its overarching theme.
Arriving at 6.40pm, guests were greeted by wandering talent, fully costumed as a variety of characters from 'Alice in Wonderland' before an 'Alice'-themed entertainment number. Ben Mingay shone as the Mad Hatter while Rowena Vilar starred as a singing Red Queen.
The next entertainment chapter kicked off after entrée, transporting guests to an 'Arabian Nights' party theme, referencing the fairy-tale story of 'Aladdin'. The chapter began with Ben Mingay in the role of the Genie, setting the scene for a memorable rendition of 'A Whole New World' and 'Genie In A Bottle' by award-winning Australian Singer-Songwriter Paulini Curuenavuli.
The night's third chapter re-imagined the Big Top as an enchanted ballroom, with chandeliers flown down above the entertainment stage. Ben Mingay sang 'I Would Do Anything For Love', while the timeless love story from 'Beauty and The Beast' was told with the aid of an aerial tissue routine.
Throughout the night, Alan Jones AO encouraged the crowd to buy raffle tickets from the wandering talent, with prizes that included a family trip to Disneyland with $5,000 spending money, and a lunch for two in New York with Australian Actor, Hugh Jackman.
An extensive silent auction held in the foyer was hosted by guest auctioneer, Tim Gilbert, from television's Nine Network. Through the immense generosity of guests and sponsors, the auction raised a total of $237,000 to directly help find the cure for DMD.
The evening's most elaborate chapter was saved for last as 'Willy Wonka's Chocolate Factory' was brought to Luna Park. The opening sequence saw another moving rendition by Ben Mingay, this time singing 'Pure Imagination,' in a heartfelt dedication to Gene Wilder, who had sadly passed away that week. The music then transitioned into a fast-paced dance medley, with young dancers and talented candy girls performing to the famous Oompa-Loompa tune. While the dance number took place on the stage, some talent moved into the crowd to smash the table's edible centrepiece-cakes, revealing a horde of edible goodies inside. The final sequence of this event saw the stunning Paulini return to end an unforgettable night of entertainment with a moving tribute to Prince through his classic, 'Purple Rain.'