Just exactly what does it take to put on one of Sydney's biggest events of the year? BLE's creative director Delon Price takes you inside.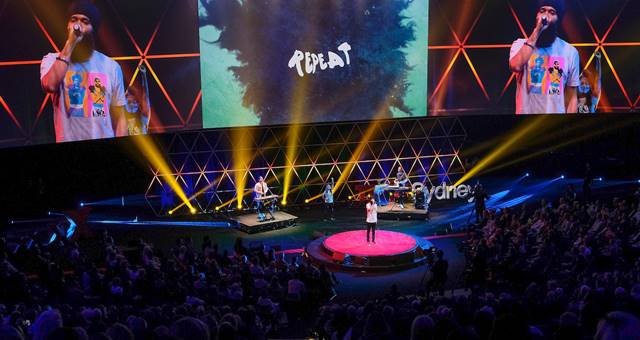 Photo: Jean-Jacques Halans | TEDxSydney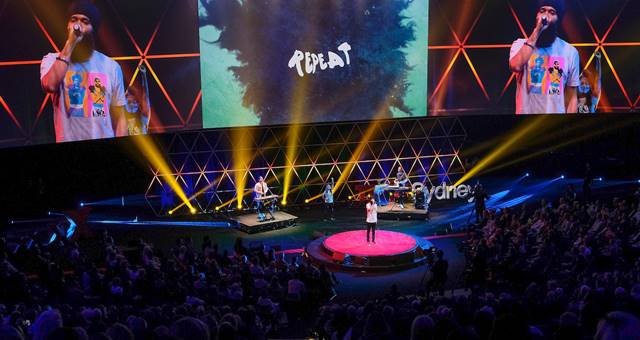 By Delon Price, creative director, Belle Laide Events (BLE)
Belle Laide Events (BLE) was engaged as event production partner to help guide TEDx Sydney into exciting and uncharted territory. The overarching challenge was to maintain the intimate feel and sense of connection that sits at the core of the TEDx format, while delivering the event at an unprecedented scale and with the high levels of quality and detail that BLE is know for within the industry.
This started in the ICC Sydney Theatre where BLE collaborated with TEDx veterans Innovative Production Services on a bold production design that abandoned a traditional stage in favour of activating the ICC floor to maximise sight lines and maintain the intimate connection between audience and speakers. The technical production team oversaw an epic schedule with 15 presenters and 8 entertainment acts across 4 sessions requiring quick changeovers and the seamless integration of a broadcast component streaming to over 500000 viewers across the globe.
BLE also oversaw a new innovation this year that has redefined what happens outside of the TEDx Theatre. The TEDx Hub is a multi-function precinct where participants and stakeholders can interact across the day. BLE activated 9000m2  of exhibition space to accommodate registration zones, food and beverage service for 4500 people, partner and donor lounges, a satellite stage and a collection of engaging activities inspired by the core principles of TED.
The Hub was organized around 15 giant inflatable spheres suspended above circular carpeted zones, each colour coded to match the 15 'TEDx Tribes' (a concept created by TEDx Sydney founder Remo Giuffre with each representing a hot topic like LGBQTI, Sustainability, Creativity, Technology and The Future). Conceived as places where like-minded people could connect, each space also hosted a unique experience ranging from 'Silent Disco Tai-Chi' to art installations and interactive music technologies.
BLE positioned sustainability and community at the very core of TEDx, collaborating with organisations like The Bread and Butter Project (training and employing refugees and asylum seekers), Biopak (providing over 35000 pieces of fully recyclable packaging and utensils), Globelet (Keep Cups) and MeetPat whose water refill stations saved almost 2000 plastic bottles from going to landfill. 1.8 tons of food waste was successfully composted at Soilco instead of going into landfill, and OzHarvest picked up two full van loads of food at the end of the event.
BLE was required to provide a high level of innovation and manage over 100 different suppliers to produce what has been hailed as the best TEDx Sydney yet, garnering praise from TED headquarters in New York and expanding the potential and possibilities for the event in years to come.