Applications are open for the next round of the program, which now offers increased funding and a new stream for regional events.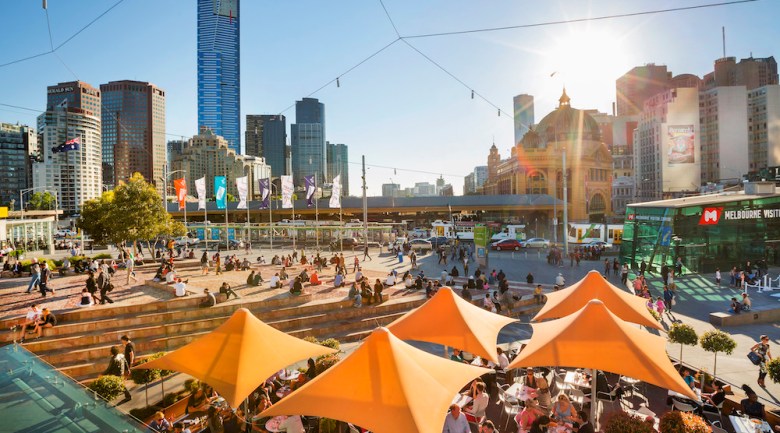 Federation Square, Melbourne. Image credit: Visit Victoria.
Eligible event organisers can now apply for the next round of the National Business Events Program, which offers to offset costs for hosting events anywhere in Victoria.
The funding program, which is being administered by the Melbourne Convention Bureau (MCB) and Business Events Victoria (BEV), has been expanded to provide a three-fold cash boost to attract events to Melbourne and a new funding stream for events hosted in regional Victoria.
Funding amounts have been increased up to $90,000 per applicant to hold multiyear business events in Melbourne, plus grants available up to $25,000 per applicant to hold events in regional Victoria before 31 December 2023.
Cash grants can be put towards accommodation, venue hire, transport and other event costs, and depending on where the event is held, 50 per cent may be payable before the event commences to cover upfront expenses. Eligible events include conferences, trade exhibitions, workshops and seminars, as well as corporate meetings and incentive group events with a business event program.
Launched in May, the program has provided a much-needed boost to the business events sector, building confidence with planners and key decision makers to plan and book their events in Melbourne.
As a result, MCB received more than 200 expressions of interest, with 73 events approved to date. These funded events are expected to provide $102 million in economic contribution to the state.
Business event organisers from anywhere in Australia can apply for funding, which MCB chief executive Julia Swanson said will provide them with a much needed helping hand.
"We have worked closely with BEV who will administer the regional arm of the program, which is designed to stimulate short- and medium-term recovery of the business events sector right across our state," Swanson said.
BEV executive officer Chris Porter said that after a challenging year, the funding would be a crucial step in aiding the recovery of the business events sector.
"Business events are critical in fuelling regional economies mid-week and in off-peak times and it will be great to see business teams connect and strategise face-to-face again right across Victoria," Porter said.
"This funding program will help rebuild confidence amongst event organisers, so they start booking events again, both regionally and in Melbourne."
Grants are available for a limited time with applications closing 31 December 2021, or earlier, if available funding is exhausted.