The company aims to revolutionise the team-building landscape and set new standards for team experiences in the region.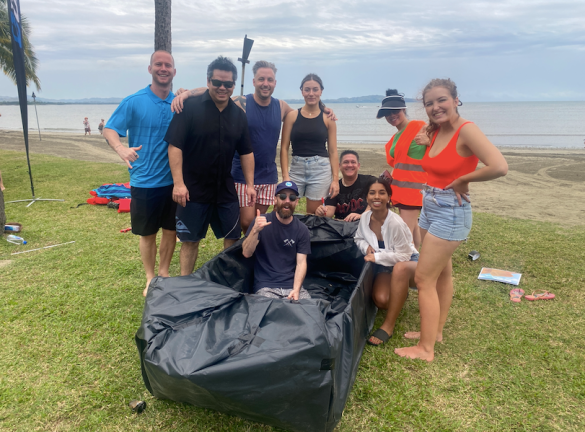 New Zealand corporate team building company, Team Up Events, has announced the opening of its new office in Fiji, strengthening its commitment to providing exceptional team events, incentives and experiences to the MICE market.
Located in Denarau, Nadi, the new office will serve as a hub for the company's operations, allowing them to seamlessly coordinate and execute the delivery of their extensive range of team events and experiential learning programs throughout Fiji.
In recent years, the MICE industry in Fiji has witnessed steady growth, attracting a diverse range of businesses and organisations seeking unique destinations to host their corporate and incentive events. Team Up aims to revolutionise the team-building landscape and set new standards for engaging and transformative corporate and incentive team events in Fiji and across the Pacific region.
"We are thrilled to expand our footprint beyond New Zealand and open a new office in Fiji," Team Up Events founder and managing director, Stu Robertson said.
"Fiji is a remarkable destination with its pristine beaches, lush landscapes, and vibrant culture. By establishing a local presence, we aim to bring our expertise and passion for team events to both inbound and domestic clients in Fiji creating unforgettable experiences that strengthen relationships, improve teamwork, and enhance overall performance."
Tourism Fiji has acknowledged that the establishment of Team Up Events' new office in Fiji will not only enhance the range of team-building experiences available but also contribute to the local economy by creating job opportunities and fostering collaboration with local suppliers and service providers.
"We are excited to welcome Team Up Events to Fiji and congratulate them on the opening of their new office," Tourism Fiji chief operating officer, Leigh Howard said.
"The expansion of their operations into our beautiful country is a testament to the growing MICE industry in Fiji and the increasing demand for unique and engaging team-building experiences. We are confident that Team Up Events' expertise and commitment to excellence will contribute to the further success of the MICE sector in Fiji. We look forward to collaborating with them to showcase the best of Fiji and create unforgettable experiences for their clients."
Thoughtfully designed to engage people, connect teams, and align organisations, Team Up's comprehensive range of events includes team bonding experiences, team-building activities, team development programs, and more.