Company directors Michael Fleck and Ruth Hirst say hybrid multisite and online business events are the way of the future.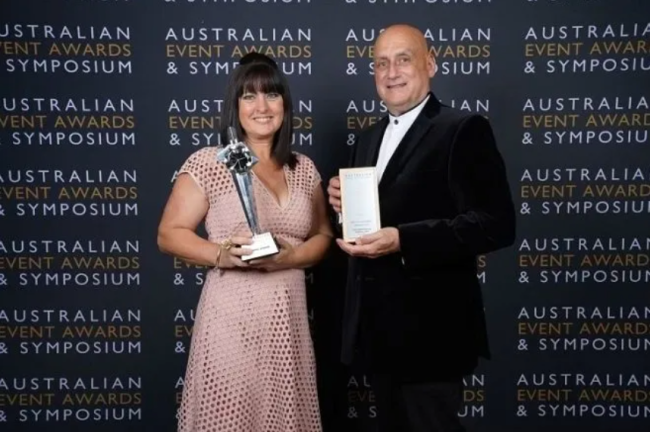 L to R: Ruth Hirst and Michael Fleck.
Sydney-based Synergy Effect has been awarded an EcoVadis Gold medal for sustainability and has ranked in the top three percent of event management companies worldwide for sustainability initiatives.
With initiatives encompassing environmental, labour and human rights, ethics and culture, Synergy Effect is focused on creating impactful event solutions that deliver business goals as well as being more sustainable and inclusive.
Synergy Effect directors Michael Fleck and Ruth Hirst believe it has never been more important for businesses to seek innovative brand experiences to build culture, ignite brand and strategy, unite and engage people, and maximise business results – and that hybrid multisite and online business events are the way of the future.
"Events and conferences have been proven to be hugely effective in aligning people with strategy, motivating, building culture and engagement – however traditional business events are by their nature exclusive – being limited by venue size and high per-head costs, as well as resulting in a significant carbon footprint," Fleck said.
"By focussing on highly experiential hybrid multisite and online experiences, businesses can reduce the carbon footprint of events by up to 95 per cent, plus engage ten times the people and lower the per head cost by up 90 per cent."
With The Emissions Database for Global Atmospheric Research showing the annual carbon footprint for the event industry is on par with the yearly greenhouse gas emissions of the entire United States, responsible for more than 10 per cent of global CO2 emissions, Hirst said it's important to consider environmental and social impact in every element of event design.
"Keep sustainability and inclusivity in mind when you're planning every element of your event. Choose reusable wherever you can and look for ways to build connection, interactivity and empowerment to ensure your event has a positive social impact," she said.
Hirst said other important strategies to consider for sustainability success are:
"Go hybrid multi-site and online – simultaneous, in-person events in multiple locations where your people are, all joined by technology to experience the same presentations, brand activations and engagement elements – plus online attendance. Remote presenters beamed in live from anywhere in the world, with the option to join in-person presenters on the same stage with our 3D 360-degree sets.
"Focus on inclusivity as a core pillar – when planning presentations, look for ways to include a wide range of voices from your industry or organisation. Pre-film content segments to ensure you include people from across all tiers of the business through panel discussions, video compilations, or behind the scenes dive-ins.
"Seek to invite ALL your people to give everyone a chance to attend at one of the multisite venues, or online and heighten engagement with a customisable event app – housing all event communications here to do away with brochures, flyers and hand-outs which create paper waste, while promoting 360-degree ongoing discussion and boosting inclusivity."