Food and beverage, connection and community - it's all in the latest issue of Spice magazine, out now!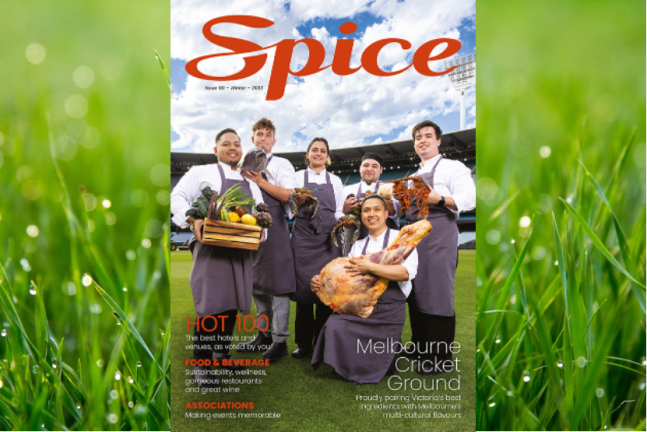 The winter 2023 issue of Spice magazine is out now – in print and in digital!
Gracing this season's cover is the talented team from the iconic Melbourne Cricket Ground (MCG) – Narciso Terrenal, sous chef; Michael Hevey, first year apprentice; Akashdeep Kaur, chef de partie; Stefano Perugini, chef de partie; William Beasley, first year apprentice; and Hentry Augustin, sous chef. Blending fresh local ingredients with Melbourne's multicultural flavours, and driven by a passion for food, this iconic venue's modus operandi is 'Victoria's best, flavoured by Melbourne.'
Spice's annual food and beverage issue also looks at the innovative ways some of Australia's leading venues are tackling food sustainability in events, reveals expert advice from a top Melbourne wine sommelier, and checks out some of the most stunning private dining venues in Sydney.
Connection and community is another hot topic and a key focus for associations who are working to make their events more connected and memorable.
And of course – the most exciting feature this issue brings is the highly anticipated annual Hot 100 Hotels & Venues – check out the results right here, as voted by our loyal readers!