Get ready to elevate your events and incentives to new horizons aboard an all-inclusive floating paradise, where luxury and adventure unite for an unforgettable experience at sea.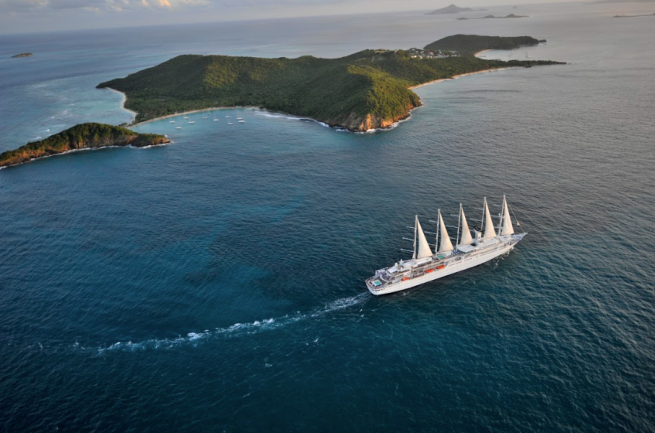 In a world where human connections and shared experiences have become more cherished than ever, the demand for more meaningful and memorable events and incentives has reached new heights. Beyond traditional gatherings, individuals and organisations are seeking one-of-a-kind experiences that foster connection, collaboration and camaraderie. Not only are such experiences an essential tool in boosting morale, motivation and productivity, they also have the potential to leave a profound impact on delegates, both personally and professionally.
As the pursuit of bringing teams together continues, the demand for exceptional experiences continues to grow, says Club Med general manager – Pacific Markets Australia & New Zealand, Michelle Davies.
"So far this year, more than half of our MICE business has been incentives and what we're seeing is businesses are really wanting to reward and recognise their teams, and also retain their staff, through incentives," Davies says.
I'm sitting with Davies in 'Le Yacht Club,' – the chic sun-filled lounge onboard Club Med's very own French sailing yacht, Club Med 2. We've just left Menorca and are on our way to Saint Tropez after having spent the last five days sailing along the picturesque coastlines of South of France and Spain.
From the service and atmosphere onboard to the array of destinations visited, the entire experience has been nothing short of amazing. Morale boosting? Tick. New connections formed? Tick. Memories shared? Tick. A rewarding and 'exceptional experience' with 'wow' factor moments? Tick, tick, BOOM!
If you're looking to bring your team together and reward them unlike ever before, getting the keys to a luxurious yacht and sailing around some of the world's most desirable destinations is sure to tick all the boxes and then some.
Club Med 2
Fresh and fancy from a multi-million-dollar renovation, Club Med 2 has ushered in a new era of luxury for the brand, earning itself a spot in the prestigious 'Exclusive Collection' – a discerningly curated portfolio of Club Med's most luxurious resorts.
In addition to brand-new sails and teak decks, the uplift across its restaurants, lounges and cabins has seen the spaces revitalised with new furnishings and a vibrant and contemporary palette inspired by the colours of the Mediterranean. Everything has been done with guests' convenience and comfort top of mind, whilst retaining the laid-back charm that has made her a popular all-inclusive floating resort since her maiden voyage in 1996.
There are 184 cabins on board, accommodating 380 guests across three categories: Superior, Deluxe and Suite. Every cabin has an external view and is spaciously appointed with an ensuite bathroom with Sothys amenities, workspace, and built-in wardrobe, while Deluxe and Suite also have a lounge area.
On board, you'll also find four bars, two restaurants, fitness room, day spa by Sothys, a swimming pool on the back deck, and a nautical hall which boasts an array of water sport equipment including new Hobie Mirage Eclipse stand-up paddle boards, scuba and snorkelling gear, and jet skis, with direct access into the water.
Being a French yacht, you can expect top-notch wining and dining with seasonal menus created in partnership with Ferrandi Paris, the renowned French culinary school. Le Saint-Tropez is a relaxed indoor-outdoor space offering a buffet-style breakfast, lunch and dinner service, while Le-Monte Carlo is a more sophisticated affair, with a different three-course à-la-carte menu offered each evening alongside a perfectly paired wine list.
There's also plenty of champagne, icy cold beer and fresh cocktails, best enjoyed on the sunny deck bars while sailing away from port and taking in the sunset. The ultimate cheers to another perfect day.
Take the keys to the yacht
Whether you're planning a team-building retreat or rewarding incentive trip, this resort on the sea lets you seamlessly blend business with leisure while sailing around exotic destinations. And the best thing about it is you can take the keys to the yacht and have it all to yourself to do as you please.
Just like all Club Med Resorts, Club Med 2 can be exclusively hired out, with everything from theming and onboard activities to menus and offshore excursions personalised to your preference. You get to call the shots on things like what the entertainment will be, when the restaurant is open, what kind of menu it serves, with even large-scale personalisations like customising the itinerary doable if given a minimum 12-months' notice.
"We call it a 'rent-a-village', which is a takeover concept where we essentially hand you the keys and you get the entire yacht and its crew all to yourself," Davies says."If you want to do themed decorations or have branding throughout, we can do it, or if you want to have a special themed dining experience at the Monte Carlo, we can do it. Any activity can be completely customised to what you want, from wellness experiences like personalised yoga classes to themed welcome cocktails upon arrival – the sky's the limit."
If travelling as an incentive group with other Club Med clientele, it's important to note that while Club Med 2 does not have dedicated meeting spaces, several spaces on board can be privatised (see breakout box), and private venues on shore can also be arranged.
"We understand that groups will want to feel like an integral part of the clientele on board, but that they also want to make sure they have that personalised and exclusive service, which is something we can easily provide on Club Med 2 and in any of our Exclusive Collection resorts."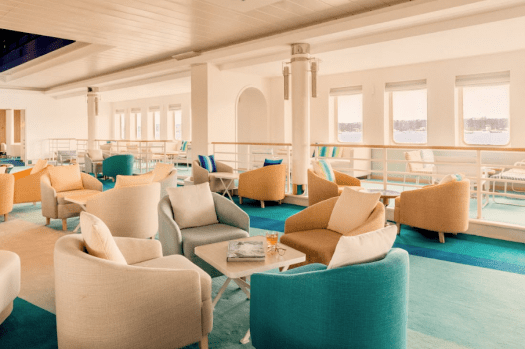 In terms of AV capabilities on board, there is a tech support team that can facilitate audio-visual needs, but depending on the scale of what is required and how elaborate, it is recommended tech suppliers be brought onsite to manage which your Club Med event manager can arrange.
Bringing exceptional experiences to life
Whatever your team is into, being able to fully customise the onshore experience is where Davies believes the 'wow factor' can really come to life.
"The meetings and events team on board, as well as the Australian team in our Sydney office, can craft anything that you would like on shore, whether that's a personalised tour led by a local guide, entries into specific attractions, privatised venues for festivities, an Amazing Race-style treasure hunt, or even a food tour of the local market followed by a cooking class back on board. It's really up to the client how impressive they want to go with a takeover for their own guests, but we love making it happen for them."
For planners, the first point of contact is Club Med's Sydney office, where a dedicated meetings and events professional will liaise with the teams in Paris and onboard Club Med 2 to bring it all together, and will remain with you throughout your entire event journey.
"We take a really personalised approach to the way we do business so the person you deal with when you sign your contract is the one that will be managing everything from start to finish, including accompanying you on your trip and actively delivering your event on-site."
You can rest assured knowing everything is taken care of, including on-the-ground transfers and accommodations, dietary and accessibility requirements, and any contingency plans should they be required.
The power of the G.O (gentle organiser)
The atmosphere on board embodies the Club Med spirit of conviviality and camaraderie and G.Os are the heart and soul of it, ensuring every moment is a joyous one. With their warm hospitality and enthusiastic energy, this super crew creates a welcoming atmosphere that fosters a sense of belonging and connection among guests. From organising exciting activities and entertainment to engaging with guests in meaningful ways, G.Os brings an extra layer of magic to the Club Med 2 adventure.
"The G.Os are really that convivial ingredient and the unique glue that holds everything together," Davies says. "They're able to engage with guests on a personal level and create that special ambience."
When you take over the yacht, you get the entire team of 30 G.Os on board to bring to life whatever you want. It's a multi-talented and multi-cultural team too, which can be especially beneficial for businesses wanting to bring teams from their international offices together.
"Something that's really special about Club Med is that multicultural feel. All of our G.Os speak more than one language and in terms of events and incentives, that crew essentially becomes an extension of the meetings and events team, helping facilitate whatever your program needs. There is incredible value in having an entire hospitality crew there to bring to life anything you want."
Human connection
With one in 17 Australians cruising, it's clear that we love to cruise, and along with in-person events, it's a pastime that was sorely missed during the pandemic. Now, being able to combine the two and bring people together on an adventure of a lifetime, offers an unparalleled opportunity for planners to create something extraordinary.
"I think that post-COVID, we understand the desire and need for events that aren't run-of-themill – there is definitely an increased demand on pushing the needle on the wow factor," Davies says.
"Having gone through such a challenging time, we really get it when our clients tell us 'We need to make this special'. So, while we can do anything, creating those moments that truly bring that human connection to the forefront of an event is what it's really all about."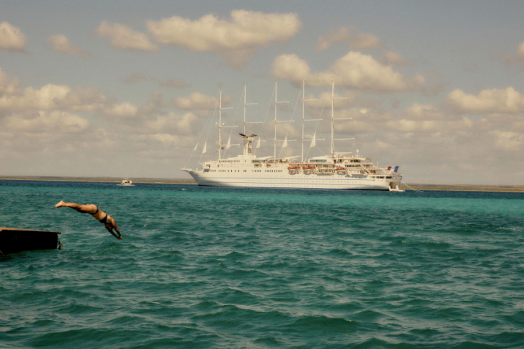 Cool fact
Despite being the largest sailing ship in the world, Club Med 2 is much smaller than a cruise ship, meaning she's able to access some of the smaller islands, ports and off the-beaten-track destinations.
Quick facts
▶ Club Med 2 is the biggest five masted sailing ship in the world
▶ 187 metres long
▶ 2,000 square metres of external decks
▶ 8 levels
▶ 184 cabins
▶ 380 guests
▶ 200 crew, including 30 G.Os
▶ The Spa has 3 single treatment rooms and 1 double room
▶ Le Saint Barth (top deck bar), 60 pax
▶ Portofino (middle deck bar), 150 pax, or more with takeover
▶ Monte Carlo (speciality restaurant), 120 pax
Hot tips:
1. Have your transfers included with Club Med so the transport team can manage any unexpected flight delays or cancellations.
2. Be sure to include a good amount of leisure time into your program to allow delegates the freedom to enjoy experiencing the destinations and the yacht in their own way.
Club Med Opio Provence
If you're seeking a more traditional conference setting, Opio Provence offers 30 meeting spaces, including a conference space for up to 600 pax. Nestled within an olive grove in the hinterland, it has 429 rooms and suites, 9-hole golf course and outdoor Zen pool, and is a 45-minute drive to Nice.