Each and every year Club Med worldwide invites nearly 3000 disadvantaged, disabled or orphaned children to participate in a day of fun activities at one of their 80 villages around the globe and Australia, with one Club Med Resort in the Whitsunday's, too
Each and every year Club Med worldwide invites nearly 3000 disadvantaged, disabled or orphaned children to participate in a day of fun activities at one of their 80 villages around the globe and Australia, with one Club Med Resort in the Whitsunday's, took part as usual, in the highly successful and popular global campaign
Celebrating its 10th Anniversary of the concept, (and Club Med's 60th Anniversary) Club Med Lindeman opened its arms to the local Far North Queensland community, including the Cannonvale PCYC.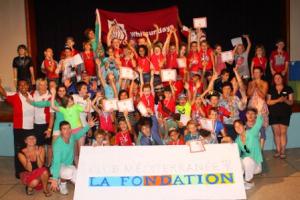 Kids living it up at Club Med Lindeman Island
The special day for the kids, kicked off with a boat ride to the island, and a special welcome from the resort manager, and then with a feast of hot croissants, fruits, drinks, cakes, etc… and followed by a show that involved a circus performance, magic and comedy.
They were then given the opportunity to take part in the various village activities including beach soccer, face painting, archery and the daring flying trapeze.
A game of water polo, because kids always love playing in the pool, during which they mixed it up with the multicultural GO team, which was then followed by a buffet lunch and a children's Zumba dance class.
The children were then asked to think about a message of hope to write on their own rock, where then they assisted in planting a memorial tree and placed their rocks of hope at its base. Then followed a special award ceremony, where each child received a personalized diploma and medal to commemorate their special day at Club Med.
The management and staff at Club Med Lindeman Island always love welcoming these special kids, and now looks forward to welcoming next years group.
"We are thrilled to welcome all children, always, to Club Med. To be able to help some disadvantaged kids in our area adds a special local meaning to all our staff's enthusiasm, in a global campaign of caring," said Hendel Duplessy, general manager, as he waved the kids farewell back to the mainland.