Conference and incentive groups heading to Rotorua, New Zealand are in for an evening of high seas hi-jinks at the historic venue's newest theme night, 'Pirates of the Blue Pearl'.
Conference and incentive groups heading to Rotorua are in for an evening of high seas hi-jinks at the historic venue's newest theme night, 'Pirates of the Blue Pearl'.
The December 5 launch event held late last year at the historic Blue Baths was awash with wenches, pirates, sailors and scallywags of all description vying for a chance to sail with the pirate king on his ship, Blue Pearl.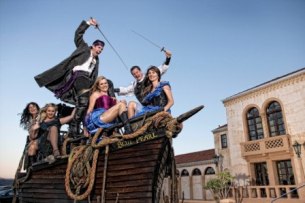 The new themed event at Rotorua's historic Blue Baths, Prates of the Blue Pearl.

The themed Lido Lounge, complete with fishing nets, driftwood, shells, fish and ocean sounds, is dominated by a 6m moving pirate ship. But there's a whole heap of fun and frolics to be had before guests step inside.
A pavilion serving grog (rum punch and beer) graces a petanque court adjacent to the Blue Baths in the picturesque Government Gardens. Guests get a chance to mix and mingle while serving wenches – dressed in pirate outfits and sporting impressively large blue pearl earrings – stroll through the crowd offering tasty cabin bread to nibble on while cabin boys top up tankards.
Just as the merriment begins to reach fever pitch, the pirate king and his second-in-command, Samuel, encourage the gathering to muster at the Juvenile Pool if they want to join the crew of the Blue Pearl. But first prospects must endure a tour into the bowels of the ship – 'tween decks where prisoners (forced into slavery) are held in appalling conditions. In reality, it's a gallery space that reveals some of the Blue Baths' amazing history for those not too terrified to stop and look!
Standing at a ship's wheel high above the pool, the King introduces himself with a song and inspects the motley collection of would-be pirates and wenches. After a song or two with two of his wenches, he concedes that if the prospective crew members agree that "The King Rules" then he'll consent to them joining the crew of his jolly ship; and he welcomes them 'aboard' the Blue Pearl.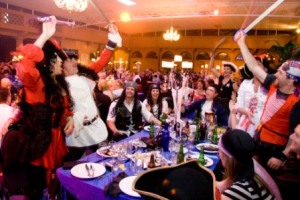 Perfect for conference and incentive groups the show officially launched in December 09.
Guests are seated at tables laden with overflowing platters of the ocean's bounty – prawns, oysters, mussels and salmon – and serving wenches circulate among the crowd throwing hunks of bread to guests. More music and mayhem follows as the Pirate King, Sam and the wenches form and re-form to provide rollicking songs that have the crowd in sing-a-long mode in no time.
While there are a few 'Wey, hey, up she rises' sea shanty refrains throughout the evening, it's the 60s to 90s favourites that have guests up on their feet dancing. Spread across the night are modern classics from Elvis, Queen, Neil Diamond, Dusty Springfield, Tom Jones, ABBA (Waterloo, Dancing Queen, Rock Me), Village People (in the Navy), Jim Croce (Bad, Bad Le Roy Brown), Van Morrison (Brown Eyed Girl), Wilson Pickett (Mustang Sally), Chuck Berry (Johnny B. Goode), plus songs from The Rocky Horror Picture Show, Grease and more.
In between a sumptuous buffet, the spread is complemented by wenches serving hearty helpings of mashed potatoes and spare ribs at the table. Tea, coffee and a range of decadent desserts follow.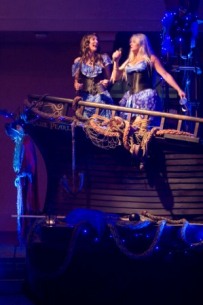 The cabaret style event includes all entertainment and a buffet feast.
The newest show follows on from the success of the 'Fashions, Fads and Famous' cabaret dinner show launched for a summer season of regular shows in October 2009. Yet another theme night, Roto-Vegas Casino featuring glamorous showgirls, Sinatra tunes and fun gambling, is in the pipeline.
While all three options are suitable for the conference market as is, they can also be adapted to suit corporate clients who may want a private show or possibly only parts of a show to ensure there is enough time for speeches, prize-giving or other business needs.
Managing director Jo Romanes says since they already have all the components in place – the venues, the catering team, the sound and lighting resources and a troupe of entertainers (14 singers, character actors, dancers and synchronised swimmers) – it's merely a matter of building them into a package tailored to the needs of the client.
The cabaret dinner shows generally run Thursday to Saturday but can be staged any night for the conference and incentive market. For more information click here.