Collective. a new approach to catering and hospitality experiences was launched last week in Auckland.
Collective. a new approach to catering and hospitality experiences was launched last week (3 July) in Auckland.
Collective. aims to change the reputation and style of catering in New Zealand and coinciding with collective's first new season's menu launch, 100 guests enjoyed a hospitality experience that "has to be lived, not just read or heard about", explained Martin Smith, general manager.
"Collective. believes in strong partnerships, providing a solution to your hospitality requirements, be it catering, beverage, staffing or infrastructure support. We are about meeting your needs."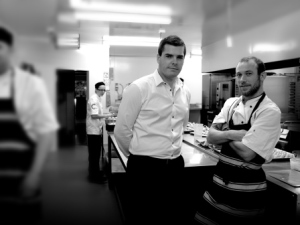 Martin Smith, general manager (left) with Phil Ryan , head chef of Collective.


Collective. works with carefully selected producers and partners, and was proudly supported in the launch by Rochfort Rees Wine Co., Hallertau Brewery, Moet Hennessy NZ and The Dust Palace.
Guests experienced offerings including warm mulled pear sangria, a pea shooter with coconut foam, balsamic cherry tomato lollypops, and panko crumbed fish cakes with an onion and green apple chutney.
Invited into the kitchen, guests relished the opportunity to interact with the chefs, encountering their styles and tips as they prepared more items such as braised short rib beef, smoked eel and truffle mash.
"We chose the brand name collective as it is simple. It's about the experience and the core values of hospitality, working together to produce a memorable end product, hospitality experiences which evolve with the seasons."
"It's not about catering, it's about creating," said head chef, Phil Ryan. "Using fresh seasonal produce, respecting our core ingredients and highlighting the pure natural flavours to create modern New Zealand cuisine.
It's a style we call 'Down to Earth'. 'Down to Earth' is not just about food, it's about the way we interact with the world around us. We value our relationships, work closely with local producers, farmers and growers to ensure only the best produce is selected for your plate."
Seasonality is the key factor, as chefs at collective work directly with their clients to design menus, which suite their exact requirements, enhancing their event.
The launch was held at Orakei Bay, an Auckland waterside venue now managed by Collective.