Some of the industry's leading figures will take part in this year's Spice Knowledge Sessions.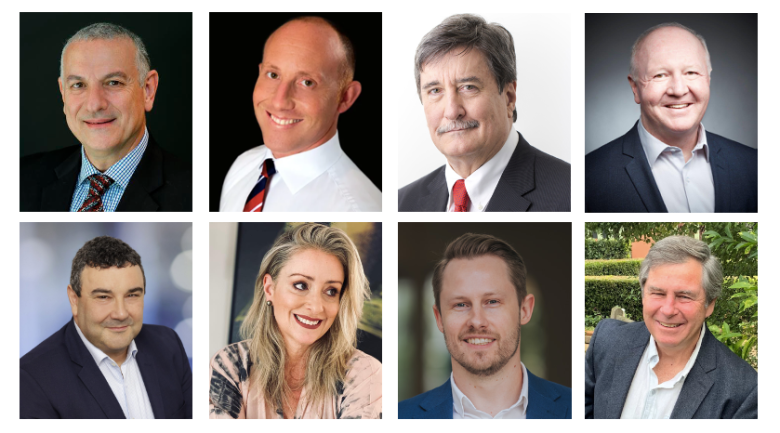 Clockwise from top left: Domenic Genua, Andrew Hiebl, Geoff Donaghy, Peter McDonald, Matt Crouch, Chris Schlueter, Michelle Schuberg and Joe Ciliberto.
Leaders of the business events industry will take to the stage next month to share their knowledge and insights at the seventh annual Events Uncovered.
As part of the Spice Knowledge Sessions, which run alongside the free expo on 28 July 2022, event professionals will have the opportunity to hear in-person panel discussions, Q&As and presentations across a broad range of topics.
Following its overwhelming success from Events Uncovered 2020, the industry update will be a key highlight of the program, with four high-profile speakers confirmed.
Domenic Genua, CEO of the Exhibition and Event Association of Australasia (EEAA), Andrew Hiebl, CEO of Association of Australian Convention Bureaux (AACB), Geoff Donaghy, CEO of ICC Sydney and deputy chair of the Business Events Council of Australia (BECA), and Peter McDonald, CEO of Meetings & Events Australia (MEA), will together provide a state of the industry update.
Tickets are available now.
Event technology will also be a focus in this year's program, with Chris Schlueter (Sprintr), Joe Ciliberto (EventsAir), and Michelle Schuberg (Curiious) taking part in a panel discussion on all things tech.
Event law expert Matt Crouch will present on the 'ins and outs' of event legalities, leaving delegates with a legal checklist for future-proofing their business events.
The Knowledge sessions will also cover topics such as indigenous culture in business events, sustainability and social responsibility, mental health and event marketing.
View the full Events Uncovered program and get your tickets here.
Don't miss out on your chance to secure tickets to Events Uncovered's exciting networking event, the Wrap Party.