The venue's formidable team continues to raise the bar, launching a new digital event solutions hub and expanding its offering to deliver exceptional events.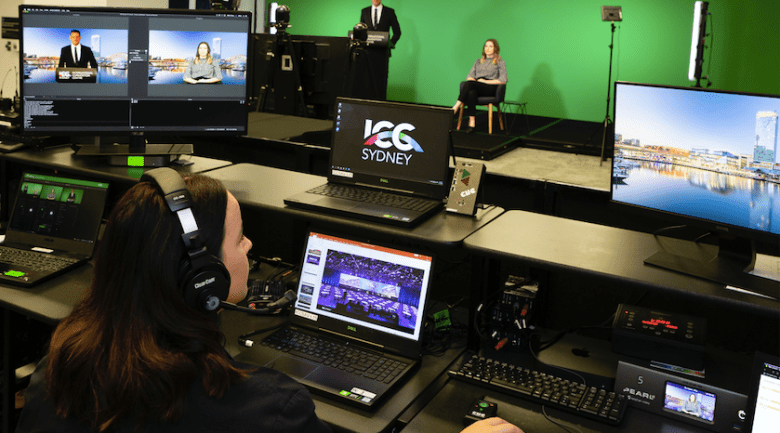 International Convention Centre Sydney (ICC Sydney) has continued to forge ahead as the business events industry gets back on its feet, announcing the launch of a new speaker preparation and digital event solutions hub and other developments.
Services offered within 'Connect Hub' span speaker preparation supporting complex program delivery of both onsite presenters and specialised support via ICC Sydney's newly expanded Digital Concierge for online speakers.
It also features the venue's permanent, dedicated media studio for broadcast events, video edit suite, digital signage management and digital event platform design and delivery. Managed by ICC Sydney's audio visual experts, the venue's customisable digital event platform, ICC Sydney Connect, provides an end-to-end solution for managing hybrid events.
Over the last two years, the ICC Sydney has been busy developing and expanding its products and services to deliver better world class events in 2022 and beyond.
"ICC Sydney played a key role in navigating the industry through the crisis that had disrupted business events over the past two years, while also evolving its own offering to build back better today," ICC Sydney chief executive officer Geoff Donaghy said.
As demand for in-person events continues to ramp up, the venue will continue to offer options that put attendees' health and safety first. Developed in partnership with Divine Events, ICC Sydney's 'Connect Outdoors' meeting options allow organisers to take advantage of the venue's outdoor spaces and extend their networking opportunities.
Self-Guided Art Tours are also available as at the venue which houses a comprehensive Australian art collection, including artwork "Gadigal, Acknowledgement Respect" showcased in the venue's Reconciliation Action Plan, created by First Nations contemporary artist, Jeffrey Samuels.
Meanwhile, new partnerships and broadened experiences have been added to the venue's Legacy Program offering event organisers even more avenues to reach their corporate social responsibility objectives through their events.
Additionally, the venue has strengthened its team, which has guided clients through the pandemic while also up-skilling to meet the unique needs of delivering exceptional events and experiences in a different world.
"In reflection of the challenges we've already experienced, I couldn't be prouder of the role that ICC Sydney's team has played in our recovery progress. During the last two years we have continued to deliver world class events while also using this time to innovate our services and educate our team," Donaghy said.
The Centre remained open throughout the pandemic, which Donaghy said enabled it to deliver 600 events over the past two years and the demand is still there, with another 600 events on the books for the remainder of the calendar year.
"The desire to meet in person remains and it's terrific to be able to support our clients in their return as Australia reaffirms itself as a top destination for events. Since the last of the New South Wales health restrictions were lifted on 24 February 2022, ICC Sydney is set for its strongest month since May 2021 this March 2022 with 54 events for our clients and 54,000 event attendees.
"While we don't yet know the exact curves of the road that lay ahead, we do know we are moving along its recovery. So, it is critical that our industry, tourism bodies and the Government continue to work together to restore national and international confidence in Australia as a safe and world class destination for events. This will not only benefit those within our industries, but also the wider economy, jobs, businesses and academic, cultural and local communities who benefit from our success."
Prior to COVID-19, the sector generated AUD$36 billion annually for the national economy, and ICC Sydney generated AUD$900 million annually, delivering flow-on benefits to local businesses, tourism, hospitality and the many workers who are reliant on the success of the industry.