The centre's ground-breaking app allows the user to visit the venue on a 1:1 scale from any location in the world.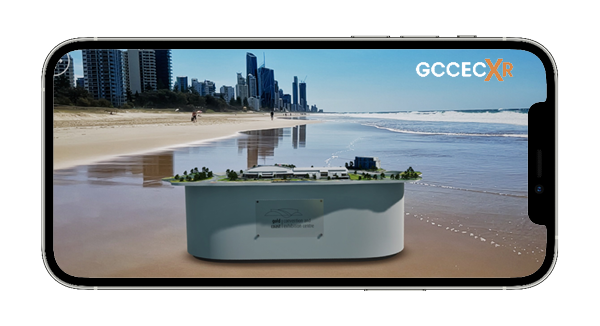 Event planners from all around the world can now 'visit' Gold Coast Convention and Exhibition Centre (GGCEC) and visualise their event in the centre's spaces, thanks to a clever new app.
After 12 months in development with leading next-gen extended reality (XR) creation company Handbuilt Creative, the GCCECXR app is now live, offering virtual site tours of the conference centre at full size through a photorealistic extended reality.
The app can be used from any location, by a single user or an entire board, to showcase the venue from exterior to interior.
The user can virtually position the entire building in their own space through their mobile phone screen, walk right up to it and around it, and wander through multiple spaces. The arena, halls, and central rooms appear in full size, as a photorealistic 3D exhibition space, a gala dinner, and a seated arena.
Measuring more than 200 metres long, 70 metres wide, and 14 metres high, Handbuilt Creative founder and creative director David Shearing said GCCECXR is the world's biggest 1:1 scale photorealistic XR experience.
"Its colossal size, and the fact you can walk anywhere to explore even small details, means you feel like you're actually there," Shearing said.
Site tours are one of the centre's key selling tools, and GCCEC director of sales and marketing Michelle Mann said this hybrid of the virtual and real-world is the centre's most exciting new development.
"With many clients unable to travel due to current regulation, we've developed new ways to allow them to view the venue from their home or office, but this is by far the most exciting," Mann said.
"Of course, nothing replaces coming to the destination, face to face, tasting our food and meeting the team, but this tool provides an excellent first experience."
Supported by Tourism Australia's Business Events Boost program, this innovative and impactful app is a welcome addition to the centre's virtual interactive toolkit.
The partnership also enabled GCCEC to launch an immersive and interactive 360-video site tour earlier this year, which amassed more than 5,500 views in just eight weeks.