Historically significant and grand spaces coupled with premium quality dining make for unique banquets and events in the heart of the World Heritage listed destination.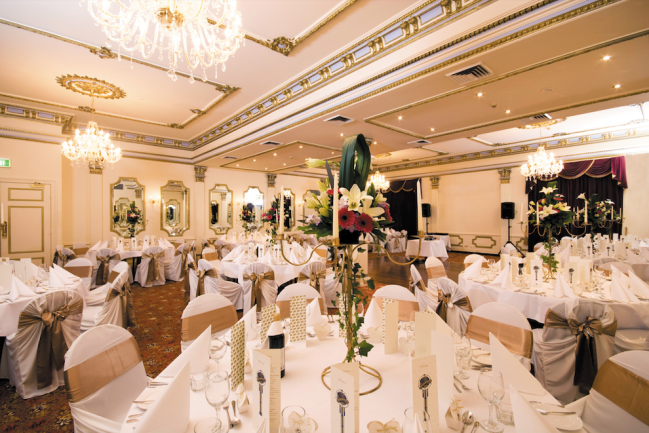 Grand Ballroom at Palais Royale.
Palais Royale, the four-star boutique property in Katoomba in the upper Blue Mountains, has unveiled its new banquets and events menu, curated by the hotel's executive chef, Enrique Castillo Jr.
Event planners and conference organisers can choose from a wide selection of deluxe menu and premium menu for meetings and events for up to 80 delegates banquet style or cocktail style for up to 150.
The Palais Royale offers three meeting venues including Café Royale (suitable for boardroom meetings for up to 10 people), the historically renowned Gazelles Restaurant (which can cater for up to 150 cocktail style), and the opulent Grand Ballroom, a significant 18th century landmark complete with grandiose chandeliers and ornate ceilings.
"We are excited to provide the events industry with an unparalleled offering in service and event delivery and the Palais Royale being at the epicentre of the upper Blue Mountains is well positioned, due to its central location, rich history and accessibility to picturesque views," Palais Royale sales and marketing manager Eric Lewanavanua said.
Just a 90-minute drive west of Sydney, the World Heritage listed Blue Mountains offers wide open spaces set against spectacular natural scenery and is renowned for delivering unique banquets and events.