Connect Outdoors will offer guests styled networking events, designed around health and wellbeing trends.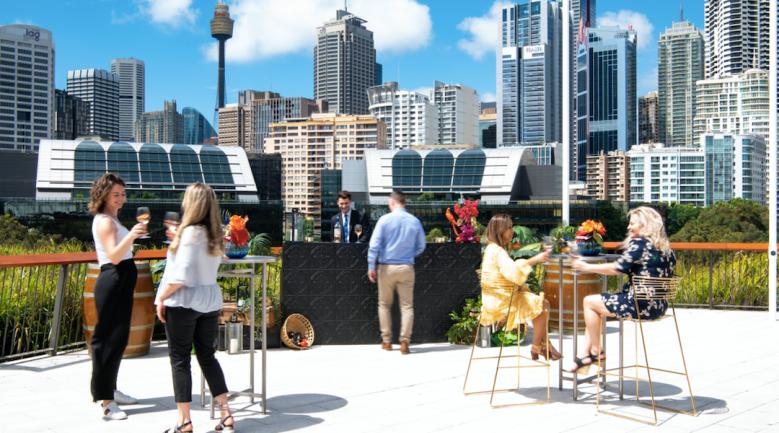 International Convention Centre Sydney (ICC Sydney) has launched a new outdoor entertaining service called Connect Outdoors, offering guests styled networking events incorporating health and wellbeing culinary trends.
The four new outdoor networking packages come at time of renewed demand for in-person events, and can be integrated into a broader event program, complete with theming solutions from the venue's styling partner Divine Events.
ICC Sydney chief executive officer Geoff Donaghy said the new service was at the forefront of event trends and maintained the venue's signature approach to providing a premium service.
"The new service invites event organisers to rethink their networking opportunities by taking advantage of the venue's outdoor spaces and uninterrupted views across Darling Harbour and the iconic Sydney CBD skyline," Donaghy said.
ICC Sydney director of culinary services, Lynell Peck said the Connect Outdoor packages took the traditional catering break to a new level.
"Delegates and guests can reconnect in an ambient and relaxed outdoor environment, all while feeding their performance through a vast selection of menu options that champion local, seasonal, healthy food and beverage options," Peck said.
The Connect Outdoors experiences include: Coffee and Conversations, tea and coffee break out areas; Connect and Revive, to promote wellness and mindfulness in an outdoor setting; Rustic Winery Reception, bringing summertime celebration to life; and Sky Deck Social Club, evoking a tropical getaway experience complete with sundowners and relaxing music.
The launch follows the Centre's recent announcement that it has strengthened its commitment to local wine producers by supporting a number of key wine industry activities.
ICC Sydney's partnership with the NSW Wine Industry Association is now in its third year, with the venue set to host the 26th annual 2021 ICC Sydney NSW Wine Awards Presentation Luncheon, which will celebrate and award the best of the state's winemakers.