Looking for an incentive with taste? How about a weekend at The Denman Hotel, one the hottest alpine resorts in the country,with fine food prepared by celebrity chef Pete Evans, who partners with resident chef Hayden Ellerton for 'Two Chefs at the Denman'
By Ian Neubauer
Looking for an incentive with taste? How about a weekend at The Denman Hotel – one the hottest alpine resorts in the country – with fine food prepared by celebrity chef Pete Evans, who partners with resident chef Hayden Ellerton for 'Two Chefs at the Denman', in the last weekend of July.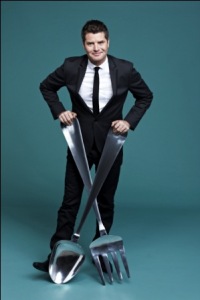 Celebrity chef Pete Evans will join The Denman's resident chef Hayden Ellerton for 'Two Chefs at the Denman'
The weekend begins with a cocktail party hosted by the chefs on Friday night, and a seven-course degustation meal and matching wines at the Terrace Restaurant on the Saturday, with alternate courses created by Evans and Ellerton.
The author of five cookbooks, host of Channel Seven's My Kitchen Rules and the man behind Hugo's restaurants and catering in Sydney and The Pantry in Melbourne, Evans will be the first guest chef in the 'Two Chefs at the Denman' series.
Ellerton is a protégé of chef royalty Peter Doyle. He has an Australian Gourmet Traveller star under his belt and edged out local rivals to win the Daily Telegraph's Alpine Restaurant of the Year in 2010.
Package rates for Two Chefs at the Denman start from $795 per person for two nights in a King or Twin room. Valid for weekend of July 29-31 only.
The Terrace Restaurant will also be taking bookings for the degustation dinner for $150 per person, including matching wines.
For bookings call 02 6457 6222 or email admin@thedenman.com.au