Opera Bar relaunched last night (Dec 10) after a complete redesign, menu overhaul and the introduction of two new concept bars.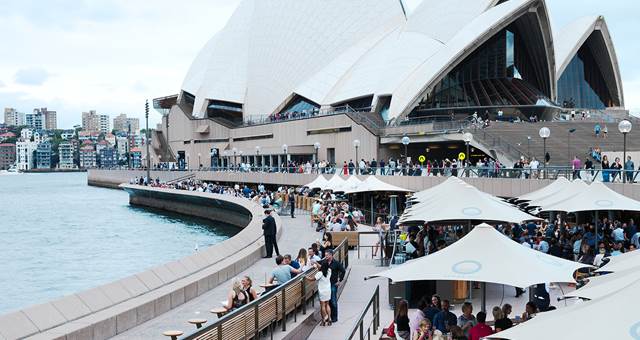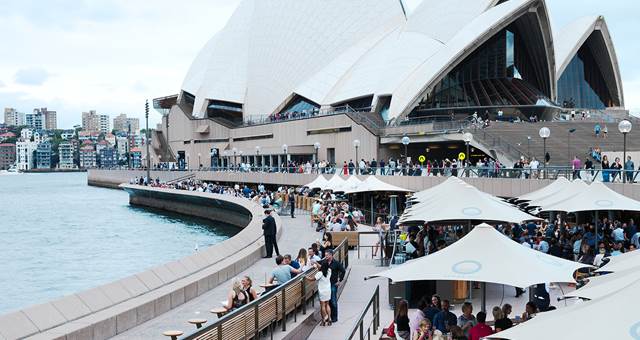 Opera Bar relaunched last night (Dec 10) after a complete redesign, menu overhaul and the introduction of two new concept bars – a raw bar and a charcuterie – all overseen by co-owner Matt Moran and the award-winning Solotel hospitality group.
The new Opera Bar will continue to showcase the best of Australia, from premium produce and quality wines to inspiring young musicians, all on the edge of one of the world's most beautiful harbours. This new concept will strengthen its position as arguably one of the world's most exciting venues.
The vibrant new design, inside and out, is a collaboration between Solotel creative director Anna Solomon, architect Chris Grinham of Humphrey + Edwards and interior designer Nina Maya. It draws inspiration from the colours of Sydney Harbour – a palette of blue, green and grey – with a nautical-like interior featuring simple, clean lines, much of it in timber with bronze and brass trims. Custom-made, timber-slatted benches will line the foreshore and new shade structures will make alfresco dining even more of a focus. A feature wall will display a new hero artwork each season.
The charcuterie and raw bar, where diners can sit with a glass of wine, will have the energy and feel of a marketplace, with much of the produce on display and the chefs front and centre. The charcuterie will be a wonderland of smallgoods, mostly sourced from celebrated butcher Victor Churchill, as well as a selection of artisan Australian cheeses. The raw bar will feature the catches of the day and offer signature seafood platters brimming with shellfish, oysters and fish, all served with house-made sauces.
The all-day menu, designed by Matt Moran and executed by head chef Leena D'Onofrio, is one part old-school favourites, the other new-school sensations. As with whatever Matt turns his hand to, it will feature quality, seasonal Australian produce, much of it sourced locally. Lamb from the Moran NSW family farm will arrive on shared platters, while Kurobuta pork cutlets with apple radish slaw, hickory-smoked duck breast salad, or chargrilled grass-fed steaks might come served with twice-cooked thick-cut chips. A smaller bar menu will be available until late and will include grilled asparagus, smoked tomato bruschetta or gruyere and pea croquetas.
Opera Bar will offer Aussie craft beers, cocktails crafted by renowned barman Jeremy Shipley, and a wine list celebrating the best of Australia's regions and varietals, as well as some old-world favourites.
A standalone cafe, Cafe at Opera Bar, will open in February 2015 and will serve breakfast seven days a week.
Matt Moran said: "I pinch myself every time I come down here. This is a venue for all the people of Sydney and visitors from around the nation and world. What an honour. We will continue to provide the best food, service, drinks and entertainment we possibly can."
Opera Bar has something for all Sydneysiders and visitors: from early morning cold-pressed juices to harbourside lunchtime dining; sparkling wine and freshly shucked oysters for supper to shared plates post-theatre; music and cocktails at sunset and family-friendly dining. The new venue will include interior and exterior seating for 700 people.
Anna Solomon said: "Solotel is incredibly proud to be in partnership with the Sydney Opera House. We believe we have done justice to such this iconic building and will continue to provide the superb hospitality Solotel is known for."
Opera Bar has been part of the fabric of Sydney, playing an integral part in transforming the Opera House's Lower Concourse since its inception more than a decade ago.
On the opening weekend (13-14 December), the Opera Bar line-up will feature the best of up-and-coming Australian musicians, including Dustin Tebbutt, Movement and Panama.
On New Year's Eve, Opera Bar will again be the epicentre of the city's celebrations with a Tropicana-themed party. In January, the Opera House precinct will be transformed into a series of summertime bars and restaurants. As part of the Opera House's annual Summer at the House programme, Opera Bar will be reimagined as a tropical oasis for families to eat, drink and play during the day and the ultimate summer hangout after the sun sets.